Burkina Faso arrests 11 ex-presidential guards over armoury raid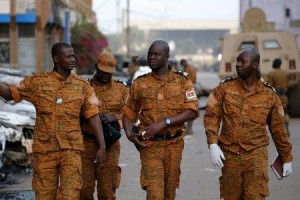 OUAGADOUGOU (Reuters) – Burkina Faso has arrested 11 members of the dissolved presidential guard, a pillar of deposed President Blaise Compaore's regime, in connection with the raid of an armoury near the capital this week, the army said on Saturday.
Friday's raid of the Yimbdi armoury came less than a week after al Qaeda fighters killed 30 people, including many foreigners, in attacks on the capital Ouagadougou, underscoring the security challenges for new President Roch Marc Christian Kabore.
"Since yesterday, we have arrested a total of 11 from the RSP (presidential guard)," said Mahamadi Bonkoungou, head of the army operations unit, adding that they were still pursuing other perpetrators thought to be on the run.
Army officials sought to play down the quantity of weapons seized during the raid, saying that the kalashnikovs and the rocket launchers taken were not loaded. They said the aim of the attack was to strike a military base, without giving details.
The former French colony is emerging from a fragile transition period following the ousting of long-ruling Compaore in October 2014. A year later, Compaore's former spy chief General Gilbert Diendere sought to use the RSP to overthrow an interim government, just a week before presidential elections.
Diendere was jailed for treason and the presidential guard was quickly dissolved, although some of its members disappeared.