A Night to remember in the works, as Station One fetes second anniversary
"It will be a night to remember," says  DJ Chick of the big cultural celebration in the works to mark the second anniversary of Station One, the reference for African entertainment in the Washington, DC, Metro area.
Billed for Saturday January 30th, the celebration will have an Afro Beat Dance Competition featuring the Omoge Dance Group – Howard University. – Ibatamba Dance Group UMBC – Supreme Dancers from New York. – IVA Dancers from Washington DC. – Afrosc3ncecrew from Maryland and M&A Destruction from Philadelphia PA.
"In the past two years we had the utmost privilege and pleasure to continue our most important goal of exposing and promoting the African culture in the U.S.A, hence showcasing its rich and diverse culture to the rest of the world," says DJ Chick .
It has not only been fun but work as well as Station one has partnered with a number of NGO's to help meet the development needs of Africa.
"We partnered with other groups such as, Miss Africa U.S.A Pageant, FestAfrica, Panafest, Promo Guinea, Tanzanian Women's Association USA, The Bright Foundation – (Ghana) IJE Africa, Eleganza Africa, Tom Munyama's Foundation (Kenya) in raising funds to help break the effect of poverty, improve education, achieve better health,sanitation awareness and also to empower the African youth, especially women in several African Countries," DJ Chick said.
The long list of African entertainment personalities that have featured at Station One includes: GHANA: – Majid Michel (Actor) – John Dumelo (Actor) – Chris Attoh (Actor) – Shatta Wale (Artist) – D Cryme (Artist) – Koby Maxwell (Artist, Actor) SIERRA LEONE: – Shady Baby. (Artist) – Heaven Jay. (Artist) – ABizzy. (Artist) – Blacka Don. (Artist) – Sana Akibu (Actress)
CAMEROON: – Petit Pays. (Artist) – Ben Decca. (Artist) – Les Nubians. (Artist) – Moni bile (Artist) – Nar6 Prize (Artist) – Stanley Enow (Artist) – Sammy Dicko. (Artist) – Naoumi Ekiko. (Model) – Naomi Achu (Artist) – Sahndra Fon Dufe. (Actress / Writer) – Stephanie Mae. (Actress) – LESA – USA Alumini association.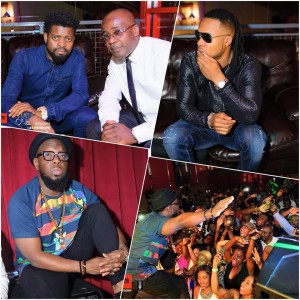 NIGERIA: – Flavour (Artist) – Iyanya (Artist) – Timaya (Artist) – Teddy A (Artist) – Ramsey Hoah. (Actor) – Oge Okoye. (Actress) – Chidi Mokeme. (Actor) – Banky .W (Artist) – Anna Banner (MBGN) Miss Nigeria Universe World contestant 2013. – Basketmouth (Comedian) – Bovi (Comedian)
IVORY COAST: – Serge Beynaud. (Artist) – La Petit Zota (Dancer) LIBERIA: – Van Vicker (Actor) UGANDA: – Eddy Kenzo (Artist) – Ragga Dee (Artist) – Desire Luzinda – Roge Banye (Artist) SENEGAL: Nafytoo (Designer)
GUINEA: – Oudy 1er (Artist) – Sekouba Bambino (Artist) – Djely Fode Kouyate (Artist) – Missia Saran Diabate (Artist) MALI: – Cheick Hamala Diabate (Artist)
ETHIOPIA: – The Ambassador of Ethiopia – Miss Africa USA 2014 from Ethiopia – Mary Eskista Wudneh TANZANIA: – Alkiba (Artist) – Abul Kiba (Artist)
MISS AFRICA USA 2014 FINALISTS: Miss Cameroon 2014: Ndemazia Nora Miss Congo (DRC) 2014: Patricia Simbu Mabengo Miss Ethiopia 2014: Meron Wudneh Miss Gambia 2014: Yassin Faal Miss Ghana 2014: Hilda Akua Frimpong Miss Guinea 2014: Fatoumata Diabate Miss Kenya 2014: Kora Hardy Miss Liberia 2014: Mollyn Duwelee Jarbo Miss Namibia 2014: Tuakondja Dalila Veii Miss Nigeria 2014: Lily Ogechi Udumukwu Miss Rwanda 2014: Adeliné Umubyeyi Miss Sierra Leone 2014: Lauretta Hassann Miss Somalia 2014: Jawahir Jamal Ahmed Miss South Sudan 2014: Nancy Geri Miss Tanzania 2014: Joy Kalemera Miss Uganda 2014: Hasifa Kivumbi Miss Zambia 2014: Anita Ismail Miss Zimbabwe 2014: Yolanda Grace Yona
*Visit here for more information on the Station One Second Anniversary