W. African leaders seek ban on full-face veil to prevent attacks
<![CDATA[By Ola Awoniyi in Abuja, Stephanie Findlay in Lagos* [caption id="attachment_23110" align="alignleft" width="300"]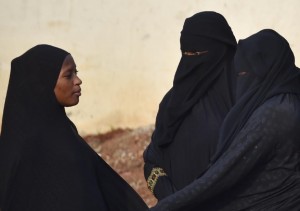 Full-face veils including the niqab, worn by the two women at right in this July 23, 2015 photo from Abidjan, capital of the Ivory Coast, would be barred from wearing such veils in member states of ECOWAS if proposed new bans are enacted (AFP Photo/Issouf Sanogo)[/caption] Abuja (AFP) – West African leaders said Thursday they were seeking to "forbid" women wearing full-face veils in an effort to curb the growing number of female suicide bombers unleashed by Boko Haram jihadists.
The president of the Economic Community of West African States (ECOWAS) Commission, Kadre Desire Ouedraogo, told reporters at the close of a two-day summit in Abuja that leaders must take "measures that would forbid this kind of dress that will not allow security personnel to be sure of their identities."
Losing swathes of territory to the Nigerian army, Boko Haram jihadists have since July started using young women and girls as suicide bombers by hiding explosives in their loose-fitting clothes.
The radical Sunni group has also used the tactic in Cameroon, Chad and Niger — countries that have already enforced bans on veils this year.
The region is reeling from a spike in female suicide bombings as a weakened Boko Haram shifts its strategy from raiding villages to relying on explosives in its quest to overthrow the government and create a hardline Islamist state in northeast Nigeria.
"Certain dress codes, which make identification of the persons concerned difficult, may considerably hinder actions geared towards protecting people and properties," said Ouedraogo, who said countries should enforce a ban "in line with their national realities."
– Forced to become human bombs? –
Almost a third of the world's 1.6 billion Muslims live in Africa, with the religion predominant in the northern half of the continent.
In May this year, the Republic of Congo became one of the first African countries to issue a ban, followed by Chad and Cameroon after multiple female suicide bombers, wearing full face veils killed and maimed scores of people.
Authorities in Cameroon even went so far as to say it had banned "the manufacturing, sale and wearing of the burqa".
But despite facing criticism that the bans infringe upon religious freedom, African leaders increasingly say national security trumps personal liberties.
In Gabon, police have received orders to increase surveillance of women wearing the garments. And following the arrest of four imams accused of links to Boko Haram, officials in Senegal announced it too is considering a ban.
The veil now arouses distrust amongst many Africans.
"We have the right to defend ourselves and, if possible, ban the full veil for women," said Adamou Ide, a writer in Niger.
"Because unfortunately it is through them that the criminals can move around and commit horrible crimes."
Today, Nigeria sees regular female suicide bombing attacks in the six-year-old Boko Haram insurgency which has claimed more than 17,000 lives.
The young age of many of the bombers indicates that some may be forced into violence.
Other Nigerian girls are unaware they will be blown up with an external remote, according to Leila Zerrougui, the UN secretary-general's special representative on children and armed conflict.
A vigilante civilian and four female suicide bombers were killed Wednesday at a checkpoint in northeast Nigeria after one of them detonated her explosives.
A local official said that four girls between the ages of nine and 12 were stopped at the checkpoint, but the information was not confirmed by another source.
Nigeria's President Muhammadu Buhari has vowed to end the Boko Haram insurgency by the end of this month, but the deadline looks likely to be missed as attacks persist.
*
AFP/Yahoo
]]>