Tanzania Leader Targets Christmas in War on Government Waste
<![CDATA[
Don't wait by your mailbox for a Christmas card from Tanzania's president this year. [caption id="attachment_22843" align="alignleft" width="586"]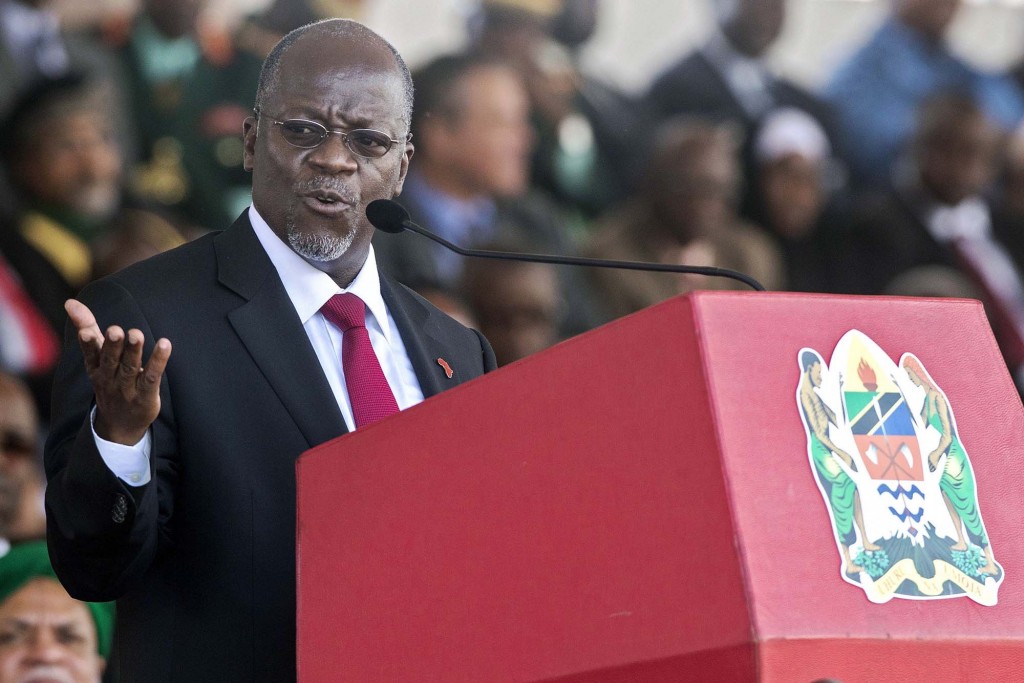 John Magufuli Photographer: Daniel Hayduk/AFP/Getty[/caption] Since taking office in early November, John Magufuli has been on the warpath against perceived government overspending and work-shy staff. This month's Independence Day celebrations are out; officials have been told to
curb
their overseas travel. And they've been barred from
printing cards
for the festive season at the government's expense. It's an approach familiar to those who followed the 56-year-old's previous stint as Tanzania's works minister, in which his zeal earned him the nickname of tingatinga, Swahili for bulldozer. It may also be the image-boost needed by his Chama Cha Mapinduzi party, which has ruled Africa's third-biggest gold producer for a half-century and been dogged by graft allegations. "The signals we have seen so far have all been positive and largely viewed as a step in the right direction," said Ahmed Salim, a Dubai-based analyst with Teneo Intelligence. "The actions in limiting unnecessary spending is a positive signpost towards much needed economic reforms in the country."
Diversifying Economy
Tanzania's $49 billion, mostly agrarian economy grew more than 7 percent in 2014, according to the International Monetary Fund. Magufuli, who succeeded Jakaya Kikwete after winning 58 percent of the vote in October elections, takes power as Tanzania seeks to diversify into commercial gas production, with estimated reserves that are the biggest in East Africa after Mozambique. In a speech to parliament on Nov. 20, Magufuli floated the possibility of the government seizing formerly state-owned companies whose buyers aren't meeting performance conditions. Four days later, he
announced
public money that would have been used for Independence Day festivities will be reallocated to improve health-care and fight a cholera outbreak that has killed
at least 150 people
since August. Magufuli has urged the Tanzania Revenue Authority to collect levies "without fear of anyone or any institution." He made a surprise visit to a state hospital, disbanding its board and appointing a new acting head after being "saddened" by the condition of the premises, and ordered repairs of vital equipment paid for by the Finance Ministry.
Parsimonious Approach
The president's parsimonious approach has earned him mockery on social media, with a Twitter hashtag #WhatWouldMagufuliDo being used to suggest unlikely cost-cutting measures citizens could take.
One tweet
showed a man modeling spectacles covered in black polythene as an alternative to "new Gucci sunglasses." Another pictured Tom Cruise clinging to the outside of an airborne plane in the latest Mission: Impossible movie, suggesting it as an option for cheaper travel. Magufuli's choice of cabinet "will signal how much reform the country will undergo" given his "lack of foreign policy exposure and limited experience in finance and economics," analyst Salim said in an e-mailed response to questions. The appointments to Tanzania's energy, finance and foreign affairs portfolios will be the most important, he said. No date has been set for Magufuli to name his cabinet.
Tried Elsewhere
Magufuli's initial belt-tightening strategies aren't new on the continent, according to Sebastian Gatimu, an analyst with the Institute for Strategic Studies in Nairobi, Kenya's capital. "It has been tried elsewhere in Africa and it failed because it's been done without reforming the civil service," he said by phone. Tanzania ranks 119th out of 175 countries on Transparency International's Corruption Perceptions Index. Graft scandals exposed during Kikwete's two terms in office included one tied to energy contracts that led donors to delay budget support last year. Steps like canceling celebrations and cards are "more of an attempt to change the tone, mindset and political culture," Salim said. "What is needed is comprehensive and structural changes to address long-term economic challenges — such as tax revenue collection, large accumulation of domestic arrears." *
Bloomberg
]]>