South Africa's Stellenbosch University aims to drop Afrikaans after protests
<![CDATA[[caption id="attachment_22354" align="alignleft" width="660"]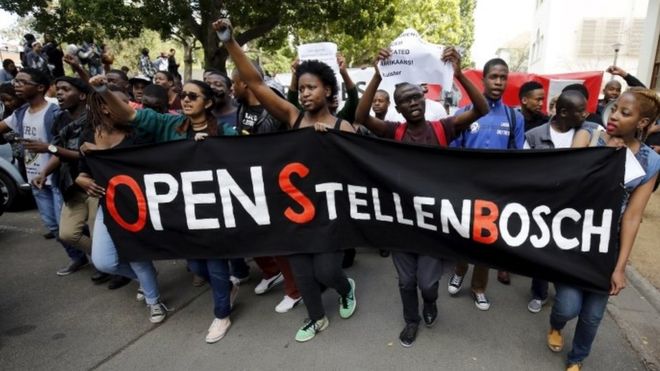 Open Stellenbosch has campaigned for the university to change its language policy[/caption]
An elite South African university wants to drop Afrikaans as the language of instruction and teach in English.
Stellenbosch University management has taken the decision in the wake of a viral video about the challenges and racism faced by black students. It detailed how some struggled with lessons in Afrikaans, one of the main languages spoken by the white minority. A student movement that campaigned for change said: "The doors of learning and culture shall be opened to all." The university is reportedly two-thirds white, more than two decades after the end of apartheid. Opposition to being taught in Afrikaans helped mobilise students to join the campaign against white-minority rule.
A post on the Open Stellenbosch campaign group's Facebook page added:
"The Language Policy Has Fallen", a reference to the nationwide protests last month over tuition fees that used the hashtag #feesmustfall. It is part of a movement to "decolonise" higher education sparked earlier this year when a student emptied a bucket of excrement over the statue of British imperialist Cecil John Rhodes at the University of Cape Town's campus. "Language should be used in a way that is oriented towards engagement with knowledge in a diverse society and to ensure equitable access to learning and teaching opportunities for all students,"
Stellenbosch University management said in a statement
, adding that the change would take place from next year.
---
South Africa's top six mother-tongue languages:
Zulu: 22.7%, Xhosa: 16%, Afrikaans: 13.5%, English: 9.6%, Setswana: 8%, Sesotho: 7.6%
South Africa has 11 official languages altogether
English is the most commonly spoken language used officially and in business
Source: SA.info/Census 2011
---
"Since English is the common language in South Africa, all learning should be facilitated in at least English to ensure no exclusion due to language," the statement said. The university would remain committed to the further development of Afrikaans and Xhosa as academic languages, it said. In university residences students should use English as the common language, it added. These recommendations will be put to the university's council at its meeting on 30 November, where correspondents say it may face fierce opposition but is likely to be passed. The documentary that went viral was titled Luister, the Afrikaans word for Listen, and was posted on
YouTube in August
. "If you don't speak Afrikaans, you don't belong here," said one interviewee.
Analysis: Milton Nkosi, BBC News, Johannesburg
This has been warmly received not only by students there but by the rest of the country. Stellenbosch University has always been accused of being one of the most untransformed academic institutions in post-apartheid South Africa, and for decades was regarded as the heart of Afrikanerdom. [caption id="attachment_22355" align="alignright" width="624"]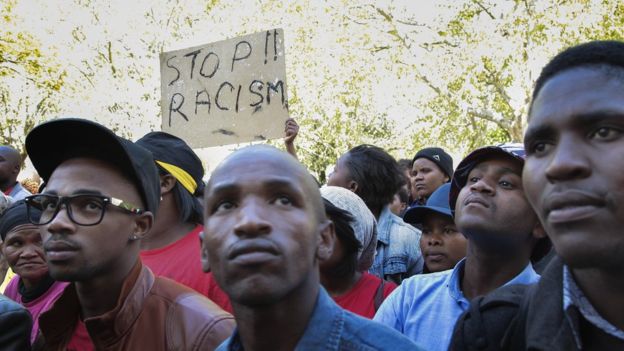 Open Stellenbosch has campaigned for the university to change its language policy[/caption] The town itself is the second-oldest European settlement in the Western Cape and was named after Simon van der Stel, who was a governor of the Dutch Cape Colony. White supremacists such as John Vorster, a former apartheid prime minister, studied at the university. It was a little enclave protecting the interests of the architects of apartheid – and by extension the language of the oppressor, Afrikaans. It was exactly this use of the language which sparked the 1976 student uprisings in Soweto. Dropping Afrikaans means that, psychologically and symbolically, the walls of apartheid are still crumbling 21 years after racial segregation was officially removed from the statute books. Afrikaans is still spoken by millions but this move will make the many more millions who do not speak it feel welcomed in one of the best academic institutions on the African continent.
Why SA students want to be taught in English
---
Pro-Afrikaaner civil rights group AfriForum has condemned the switch, saying the university "wants to further marginalise Afrikaans and discriminating even more drastically against Afrikaans-speaking students." Afrikaans is spoken mainly by mixed-race, known as coloured, and white South Africans and was developed from the descendants of Dutch, German and French settlers who arrived in the 17th Century.
According to SAinfo
, Afrikaans is the most commonly spoken language in the provinces of Northern Cape and Western Cape, where Stellenbosch University is based. Wim de Villiers, the vice-chancellor of Stellenbosch University, has defended his decision to switch to English. "Why should the University of Stellenbosch carry the responsibility to protect Afrikaans's survival? We are a forward-looking institution and our primary function is to create and transfer knowledge,"
he told the Afrikaans-language Netwerk 24 news website
. "In addition, the university is a national asset that strives to be inclusive. Therefore, we cannot have a situation where language restricts access to teaching and learning for certain students." *
BBC
]]>