Mugabe's wife denies presidential ambitions
<![CDATA[[caption id="attachment_22552" align="alignleft" width="300"]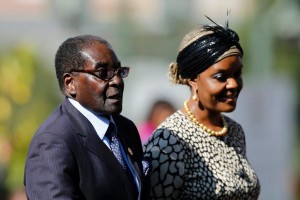 Zimbabwean President Robert Mugabe and his wife Grace arrive for a 2014 ceremony in Pretoria, South Africa (AFP Photo/Siphiwe Sibeko)[/caption] Harare (AFP) – Zimbabwean President Robert Mugabe's wife Thursday denied harbouring ambitions to succeed her husband, pledging instead to support the 91-year-old's next presidential bid.
"I am standing here as the wife of the president as well as the person you chose to lead the women's league. It ends there," she told ruling party supporters at a rally in the capital.
"I do not need any other position."
Grace Mugabe, 50, said her focus is on leading the ZANU-PF women's wing and that she would support Mugabe when he seeks re-election, even if he is wheelchair-bound by then.
"Some have laughed at me saying Mugabe's wife must be mad. I said we will put Mr Mugabe in a wheelchair and go for elections," she told a crowd of about 5,000 supporters.
Zimbabwe's next presidential election will be held in 2018. Mugabe is Africa's oldest leader, and has been in power since independence in 1980. Speculation is rife over his health with doubts as to whether he would be fit enough to campaign for re-election. Grace has become increasingly powerful since her elevation last year to lead the ZANU-PF women's wing. Late last year she led a campaign to expel former vice-president Joice Mujuru who had been seen as Mugabe's heir. Many saw her as aiming to succeed Mugabe when she went on a series of rallies, and in one of her speeches said she had the right like any Zimbabwean to contest for any political position. She bemoaned factionalism within ZANU-PF, saying it threatened to tear the party apart. "Stop factionalism because factionalism is dividing the party."
"You can only silence me by shooting me and killing me, you are not going to silence me. I am not going to be gagged, I am not going to be intimidated," she said.
ZANU-PF has been riven by factionalism over Mugabe's succession for years, with the veteran ruler avoiding naming a successor.
*
Yahoo/AFP
]]>