Diack – Africa's powerbroker in world sport
<![CDATA[[caption id="attachment_22145" align="alignleft" width="300"]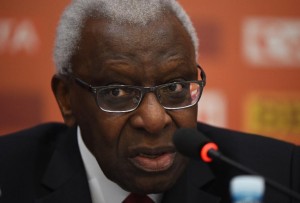 Then-IAAF president Lamine Diack, pictured on August 20, 2015, led the International Athletics Associations Federation during a huge boom in its revenues (AFP Photo/Greg Baker)[/caption] Dakar (AFP) – Lamine Diack was the first non-European president of the world governing body of athletics, the cornerstone Olympic sport now at the centre of a corruption and doping storm.
Diack, a former long jumper, football coach and then businessman and politician, led the International Athletics Associations Federation during a huge boom in its revenues. He was warned about his own financial conduct as well.
The IAAF earned more than $1.3 billion (one billion euros) from the time the Senegalese official took over as president in 1999 to the time he handed over, aged 82, to British running legend Sebastian Coe in August.
The federation has reserves of about $65 million (60 million euros).
Doping has been a continual stain on athletics over the past 30 years. Now tainted by accusations that he took bribes to cover up doping cases, Diack told AFP in an interview in August that athletics led the "crusade to have a clean sport".
"When confronted with painful issues such as doping the IAAF has always stood firm and we continue to lead the way in this global fight against cheating," Diack insisted on the sidelines of an IAAF Congress in Beijing.
Born in Dakar on June 7, 1933, Diack started his sporting career as a long jumper, winning the French athletics championships title in 1958. A knee injury prevented him from competing in the 1960 Olympics, however.
He was also a footballer and was technical director of Senegal's national team from 1966 to 1969.
Diack also became head of Senegal's Olympic Committee, mayor of Dakar, a lawmaker and was head of the West African country's national water company before taking over as head of the IAAF following the sudden death of its previous president Primo Nebiolo. The African power-broker said he had played a key role in globalising athletics. He had previous brushes with scandal before the new charges. Diack and FIFA's current interim leader Issa Hayatou both received warnings from the International Olympic Committee in 2011 over cash payments they received from International Sport and Leisure (ISL), a marketing company whose collapse caused a major scandal for football's governing body. Diack told the IOC he received payments totalling about $35,000 from ISL. At the time, the IAAF was negotiating a marketing contract with ISL. Diack had "placed himself in a conflict of interest situation", the IOC said.
His son, Pape Massata Diack, left the IAAF in December last year over allegations that he was involved in covering up Russian doping scandals.
Before leaving office, Diack said that the media was turning athletics into a "monster."
"The IAAF completely understands the importance of credibility in competition. I have said on many occasions that when the day comes where we no longer can believe what we see then sport is dead."
*Source
AFP/Yahoo
]]>