To arm against drought, Kenya maps its water resources
<![CDATA[By Maina Waruru*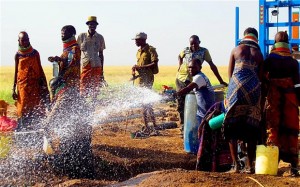 MWEA, Kenya (Thomson Reuters Foundation) – After inheriting land from his father 20 years ago, George Kinyua did the same as thousands of other local farmers: he grew rice using water from canals.
Back then, irrigation water was plenty in this part of central Kenya, and the only thing farmers worried about was how to get the best market prices for their produce.
Then in 2000, Kenya suffered a prolonged drought that reduced water levels in the area's rivers. Farmers were forced to abandon rice cultivation in favor of less thirsty crops.
To survive, Kinyua took to growing tomatoes and French beans on his 4 acres (1.62 hectares), using water from a 40-foot (12.19 m) well he had sunk into his land. But in 2004, another drought struck, and Kinyua's well dried up.
"It was so bad I had to sink a deeper well, this time 75 foot deep, and even then the water was only enough to support farming on a quarter acre of land," said the father of two. All over Kathigiriri village, farmers have had to carve out boreholes – some up to 100 feet deep – to access water. Every time another dry spell hits the region, farmers are forced to dig deeper to ensure a steady supply of the precious resource. One key problem is a lack of data, experts say. According to the Kenya Water Industry Association, not one of the country's several water regulation agencies, including the Water Resources Management Authority, has reliable data that captures the distribution, quantity and quality of available groundwater. And that kind of information is essential to help farmers survive and adapt during drought. "Only an estimated 5 percent of the overall national groundwater resource has been documented so far," said Mohamed Djelid, director for the United Nations Organization for Education, Science and Culture (UNESCO) in East Africa. Farmers trying to access water have to struggle with a number of challenges, said Djelid. Those include rising demand, limited understanding of groundwater resources, inadequate monitoring systems, rainfall variability and a lack of large reservoirs for water storage. "Proper exploitation of groundwater can bring tangible change to all this," he added. PREPARED FOR DROUGHT
To address the problem, UNESCO and Kenya's water ministry began working together this year on the Kenya Groundwater Mapping Programme, which will build a comprehensive database of the nation's groundwater wealth.
The aim is to improve knowledge of aquifers, including their location, nature and dynamics. The program was initiated after a 2013 survey of Kenya's northern arid Turkana region, commissioned by UNESCO, revealed two aquifers said to hold 250 billion cubic meters of water, enough to last the whole country for 70 years. According to a cooperation agreement signed in May between UNESCO and the government, the mapping program will look at groundwater in all of Kenya's 47 counties, with a particular focus on arid and semi-arid areas. The effort will also help staff at local and national water agencies gain skills to manage groundwater effectively and sustainably, said Djelid. They will learn how to use modern technologies such as GPS and geographic information systems (GIS) to gather and keep reliable data, he added. One of the program's goals is to map groundwater resources in a way that makes it easier for people to respond to climate stresses such as drought, by showing them where they can find water – and how much – when needed. "The initiative will strengthen drought preparedness at both local and national levels with the aim of facilitating improved access to clean drinking water for emergency situations and long-term needs," said Djelid. According to Chrispine Juma, director of water resources at the water ministry, the four-year project will also include socio-economic analysis of how access to groundwater affects individuals, communities, institutions and nature. The findings will be translated into action plans to help national and county authorities manage aquifers, Juma added. In Mwea, Kinyua said the stress of having to share dwindling water resources was causing tempers to flare, and police were often called in to intervene in conflicts between farmers. He believes his future in horticulture rests more than anything else on finding a reliable source of groundwater. "Things seem to be getting worse daily," Kinyua said. "At first canal water became inadequate and I accepted that river volumes can indeed reduce during dry seasons. But if wells too cannot save the situation, then we are doomed."