Tanzania's new leader calls for unity amid opposition fraud claims
<![CDATA[[caption id="attachment_22018" align="alignleft" width="300"]
Tanzania's President-elect John Magufuli waves as he leaves after the official election announcement ceremony in Dar es Salaam October 30, 2015 (AFP Photo/Daniel Hayduk)[/caption] Dar es Salaam (AFP) – Tanzania's new leader John Magufuli called for unity Friday after winning hotly contested polls the opposition claimed to have won, and amid tensions after Zanzibar annulled polls.
"I promise to deliver my election pledges, but we need to work together. Let us strive for peace and national unity," Magufuli said in his first speech since being declared winner of the country's presidential poll.
Officials announced Thursday that Magufuli had won Sunday's presidential elections with over 58 percent of votes, cementing the long-running Chama Cha Mapinduzi (CCM) party's decades-long grip on power.
But the opposition claimed the vote was rigged and also claimed victory.
"Let me express my profound gratitude to all Tanzanians, those in CCM, the opposition and others who have no political affiliation," Magufuli said after receiving an official certificate of his victory.
His running mate Samia Suluhu Hassan, from the semi-autonomous Zanzibar archipelago, becomes Tanzania's first ever female vice president.
While the CCM celebrated Magufuli's win, it came at the cost of several veteran CCM ministers and politicians, ousted from their parliamentary seats.
National Electoral Commission (NEC) chief presented Magufuli and Hassan with certificates of appointment, ahead of an official swearing in ceremony on November 5.
Outgoing President Jakaya Kikwete said Magufuli was the "right person" for the job – and said he was "so happy" to be leaving his job after a decade in power, stepping aside after serving his two-term limit.
– Kikwete heads home –
Kikwete, who said he would go to his home village of Msogo, dismissed a question as to whether he would miss the trappings of office.
"Why should I be sad? You see I'm so happy, I played my part," Kikwete said, who embraced Magufuli at the ceremony.
"I was given the opportunity, and for 10 years I worked to the best of my ability to build our nation," he added. "Time has now come for me to leave the country peacefully to the next leader."
Kikwete's standing down comes amid a wider controversy in Africa over efforts by leaders to change constitutions in order to stay in office.
But Tanzania's vote was not without troubles.
Magufuli, a former chemistry teacher who celebrated his 56th birthday on Thursday as results were announced, ran on an anti-corruption platform, and secured a convincing victory over his closest rival, ex prime minister Edward Lowassa who won 40 percent.
Lowassa, a former CCM stalwart turned opposition chief, rejected the official results and accused the election body of falsifying tallies. Unlike other losing candidates, he did not attend the certificate ceremony, held in the economic capital Dar es Salaam.
– Zanzibar tensions –
Zanzibar's decision to annul polls has also caused concern, although the islands were reported to be calm on Friday, according to an AFP reporter.
The archipelago — which also voted for its own president — annulled polls over irregularities.
"Democracy, peace and unity in Zanzibar are at stake," said a statement by international election observers on Thursday, including teams from the African Union, headed by former Mozambican president Armando Guebuza, the Commonwealth, headed by former Nigerian president Goodluck Jonathan, and the European Union. [caption id="attachment_22019" align="alignright" width="300"]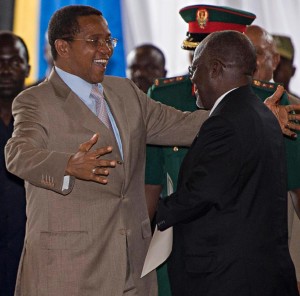 Tanzania's outgoing President Jakaya Kikwete (L) embraces president-elect John Magufuli during an official ceremony to announce Magufuli's victory after presidential elections in Dar es Salaam October 30, 2015 (AFP Photo/Daniel Hayduk)[/caption] Zanzibar's electoral commission said the islands' vote — where the 500,000 registered electorate also voted for Tanzania's national president — must be carried out again, citing "violations of electoral law". The annulment came after a key candidate, Seif Sharif Hamad from the opposition Civic United Front (CUF), declared himself the winner before the results were officially announced. Hamad on Friday threatened to call for protests on Monday if the situation is not solved by then, and would not then recognise incumbent president Ali Mohamed Shein of the CCM. "As from November 2, there will be no government here, Shein will not be the president anymore," Hamad said. Zanzibar has experienced sectarian and political tensions in recent years — including several grenade explosions — with the unrest affecting the islands' key tourist industry.
There have also been wider tensions around Zanzibar's union with the mainland, with some opposition political parties wanting to break ties and return to the independence it briefly enjoyed in early 1964 before merging with Tanganyika.
The CUF promised to campaign for full autonomy if it wins, while the CCM has vowed to maintain the status quo.
*Source
AFP/Yahoo
]]>