Rio Runs Out of Guinea Goodwill as Giant Iron-Ore Mine Lags
<![CDATA[By Franz Wild & Ougna Camara*
Biggest iron-ore miner has been exploring in Guinea since 1997

$20 billion Simandou could double the size of Guinea's economy
Guinea is stuck in a painful marriage with Rio Tinto Group.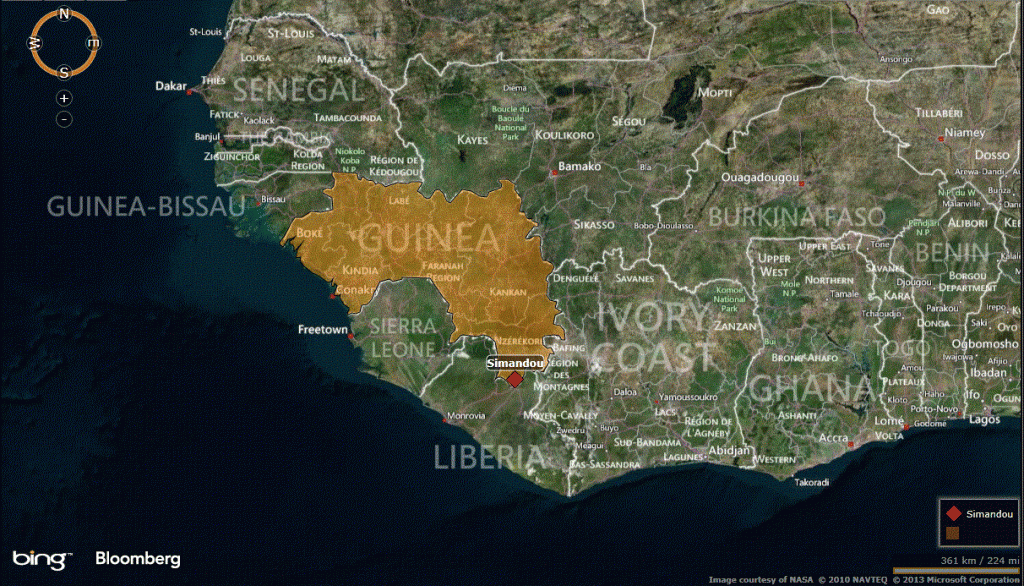 The West African nation is unhappy that Rio is taking so long to develop Simandou, the world's largest untapped iron-ore deposit. But with a $20 billion bill and prices near a seven-year low making major companies rein in spending, it's difficult for the biggest producer of the material to make a move. The stakes for Guinea are huge. Simandou could double the size of its $6.5 billion economy and turn it into the third-biggest iron-ore exporter, according to Rio's own analysis. Eighteen years after the government invited the producer to explore the deposit, the company says state reviews, low prices, losing the rights to half its deposit and the worst outbreak of Ebola — which Chief Executive Officer Sam Walsh called a "force majeure event" — have set it back. Two-thirds of the $20 billion investment will be for infrastructure, including a 650-kilometer (404-mile) railway to connect the mountainous jungle around Simandou to the coast and a deep-sea port. It's a "very complex" project, Walsh told the U.S. Chamber of Commerce in Washington on Sept. 11. Rio and its partners have already spent $3 billion on the deposit, he said. "They're giving us the runaround," said Cece Noramou, 62, the government official overseeing the infrastructure project. "We're running out of patience. We can't spend our whole lives without any development." President Alpha Conde's government is considering what mining policy to pursue, he told reporters Aug. 27 in the capital, Conakry. "There have been people at Simandou for 15 years, 20 years, and they've never produced a ton of iron," he said. Conde's taking a new tender for another part of the deposit slowly because "we don't want our minerals to be put out to pasture anymore," he said. Rio spokesman Illtud Harri declined to comment for this article.
Terms Reviewed
In 2006, almost a decade after starting exploration, Rio said it had found 1.6 billion metric tons of iron-ore reserves. Production was planned for 2013 and to reach 100 million tons of ore a year at its peak, adding about 34 percent to the company's 2014 output. Soon, the government started reviewing the terms of the project and in 2008 President Lansana Conte withdrew the rights to two of the four blocks. They were handed to BSG Resources Ltd., the company of Israeli billionaire Beny Steinmetz, which sold 51 percent of the two to Vale SA, Rio's biggest iron-ore rival. Two weeks after BSGR got the blocks, Conte died. There was a coup, followed by military rule. Then, when Conde was elected in 2010, he promised a review of all mine contracts. The BSGR and Vale venture lost its title after the government found BSGR had obtained it through bribery — something the company denies. In 2011, Rio renegotiated its deal, paying the government $700 million in upfront taxes, with Walsh saying he hoped to ship iron ore by mid-2015. The Ebola outbreak in December 2013 forced workers at Simandou to withdraw. Rio then missed the July deadline for the feasibility study. This will be completed soon, depending on how quickly contractors doing "big chunks of the work" complete the job,Alan Davies, Rio's CEO of diamonds and minerals, said in a Sept. 22 interview. Simandou's ore is of "high quality," underpinning "low per-ton operating costs," Rio said in a September 2014 study. "This means that Simandou is likely to be able to operate profitably even if cyclical drops in iron-ore prices force other projects with higher operating costs to manage production levels." Not advancing Simandou fits in with tactics by Rio, Vale and BHP Billiton Ltd., the three biggest iron-ore producers, to acquire the largest deposits but then not develop them so that they don't compete with existing mines, according to Kenneth Hoffman, a senior metals and mining analyst with Bloomberg Intelligence.
No Rush
"They're in no rush to get these mines up and running," Hoffman said. "That just crushes their own operations. That's almost part of the strategy of these big miners." That suspicion runs deep in Guinea, Africa's ninth-poorest country, according to United Nations data. "I don't have a lot of faith in Rio," said Joseph Koivogui Kpoto, 30, producing his bulldozer-driver's certificate near the northern town of Boke. "They've had plenty of time. I think the government should find someone else." The window of opportunity to develop Simandou may have closed for now. Ore with 62 percent content delivered to Qingdao fell 2.9 percent to $54.97 a dry ton on Tuesday, according to Metal Bulletin Ltd., close to its lowest in at least seven years. Still, even some of Guinea's frustrated officials know that few other companies could handle a project of that scale. "I don't think we should annul their concession," Noramou said. "We'd be starting from scratch." *Source
Bloomberg
]]>