Obama announces deployment of 300 troops to Cameroon
<![CDATA[[caption id="attachment_21467" align="alignleft" width="300"]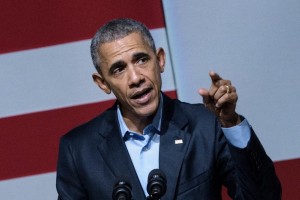 US President Barack Obama speaks at a Democratic National Committee event at the Warfield Theater October 10, 2015 in San Francisco, California (AFP Photo/Brendan Smialowski)[/caption]
Washington (AFP) – US President Barack Obama on Wednesday notified Congress that he intends to deploy 300 troops to Cameroon to conduct intelligence, surveillance and reconnaissance operations.
In a letter released by the White House, Obama said 90 personnel had already been deployed, and would be armed for self-defense.
A senior administration official told AFP the deployment was "part of the counter Boko Haram effort."
Cameroon, along with a growing number of west and central African nations, has been targeted by the Islamist militants, who are expanding operations beyond the group's traditional base in northern Nigeria.
Twin suicide blasts on Sunday killed at least nine people and injured 29 in far northern Cameroon. Two female suicide bombers carried out the attacks in the village of Kangaleri, security and local sources said.
Nine people died when the first woman detonated a bomb in a tiny milk and donut restaurant. The second suicide bomber killed only herself, a local authority official said.
The attack came a day after triple explosions in Chad left 41 dead.
Both countries are part of a regional coalition that has been fighting the militants.
*
AFP/Yahoo
]]>