Defence, security ministers fired in C.Africa reshuffle
<![CDATA[
Bangui (Central African Republic) (AFP) – Central Africa's ministers of defence and public security have been fired in a reshuffle following renewed sectarian clashes, the government announced on Thursday.
[caption id="attachment_21990" align="alignleft" width="300"]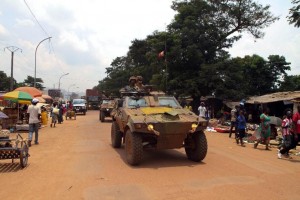 A convoy of French Operation Sangaris vehicles drives through Bangui's Combattant district on September 14, 2015. AFP PHOTO / EDOUARD DROPSY (AFP Photo/Edouard Dropsy)[/caption]
The new defence minister was named as Joseph Bidoumi, president of the Central African League of Human Rights, while Chrysostome Sambia, a gendarmerie general, was appointed minister of public security, presidential spokesman Clement Thierry Tito said on national radio.
The announcement came after members of the country's interim parliament fiercely criticised Prime Minister Mahamat Kamoun for his handling of the unrest.
Violence between members of the Christian and Muslim communities flared again in September, leaving scores dead and hundreds injured before an international force restored calm. Bidoumi replaces Marie-Noelle Koyara, the first woman to be appointed defence minister in the country's history, who had taken office just in January. Sambia succeeds Dominique Said Panguindji, who becomes justice minister and retains his position as government spokesman. The violence dates back to the ouster in 2013 of the then president, Francois Bozize, a Christian, by mainly Muslim Seleka rebels.
At the height of the massacres, rape and plunder, more than 900,000 of the population of 4.6 million were displaced and half the population needed humanitarian aid, according to the UN refugee agency and medical charity MSF (Doctors Without Borders).
Tensions remain high and at least seven people were killed on Monday and Tuesday in the capital Bangui, the authorities said.
On Thursday, gunfire echoed around several districts of the city in what a military source said was a reprisal by armed Muslims following the death of two members of their community.
The two bodies were found in the mainly Christian districts of Fatima and Nzangoyen.
*Source
AFP/Yahoo
]]>