Dedisa Peaking Power in Port Elizabeth starts commercial operation
<![CDATA[The plant adds 335 MW power to the national transmission system, in the Eastern Cape Province
The plant adds 335 MW power to the national transmission system, in the Eastern Cape Province
Dedisa Peaking Power is South Africa's first large independent power project originated by the Department of Energy, together with Avon Peaking Power (Durban) that is still under construction.
The plant is of major importance for the economic development of the Coega Industrial Development Zone, where it is located.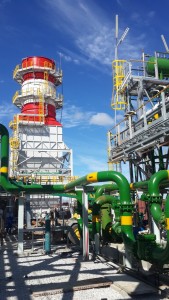 Dedisa Peaking Power, a venture of ENGIE (formerly GDF SUEZ, France), black majority owned Legend Power Solutions (RSA), Mitsui & Co., Ltd. (Japan), and The Peaker Trust (RSA) representing the community in the area, today announced that it has started commercial operation of the 335 MW Dedisa Peaking Power Project in Port Elizabeth (Eastern Cape). Together with the 670 MW Avon Peaking Power Project near Durban (KwaZulu-Natal), Dedisa is South Africa's first large scale independent power project originated by the Department of Energy. The power generated by these two open cycle gas turbine power plants will be sold to Eskom Holdings, South Africa's state-owned utility, under a Power Purchase Agreement (PPA) over a 15-year term. The construction of Dedisa Peaking Power, by the consortium of Ansaldo Energia and Fata of Italy, started in September 2013. It has been a major source of local employment, with a peak of ca. 1,400 workers on site reached in November 2014. Recruitment as well as local subcontracting were made largely in coordination with the COEGA Development Corporation, the industrial development zone authority. The achievements of the project during construction, in terms of job creation, skills transfer and BEE, exceeded the objectives agreed with the South African Government: 70% of total workforce employed to construct the facility was from the local black communities, with 57% black management, and in excess of 2.3% of payroll was spent on skills development initiatives. The operation of the plant will create permanent direct and indirect jobs for the local community over the 15 years of the PPA. The start of operations will also benefit The Peaker Trust, an independent trust that has been established to ensure that local broad-based black organizations and communities can benefit from the project. The trust owns 10% of Dedisa and the dividends it gets out of the plant operations will go to local socio-economic development initiatives for at least 15 years (i.e. the duration of the PPA). Arnaud de Limburg, CEO of Dedisa Peaking Power, commented: "
Dedisa has started commercial operation on schedule and I want to sincerely thank everyone who has contributed to this achievement for their efforts and support. We owe our success to a solid partnership, strong support from both local and national Authorities, and highly motivated teams. I'm also proud that we have attained our goal with the utmost attention to our economic development objectives. Looking ahead, I am confident that in the frame of South Africa's Gas Master Plan we will be able to convert the Dedisa facility to baseload and combined cycle as envisaged by the Department of Energy.
"
ENGIE
 develops its key businesses – power, natural gas and energy services – around a model of responsible growth to take on the major challenges of the transition to a low-carbon economy. The Group provides communities, governments, cities and businesses with highly efficient and innovative solutions based on its expertise in four key sectors: independent power production, natural gas, renewable energy and energy efficiency services. ENGIE employs 153,000 people worldwide and achieved revenues of €75 billion in 2014. The Group is listed on the Paris and Brussels stock exchanges and is represented in the major international indices. In South Africa, ENGIE (in joint venture with local partners) is also operating the 94 MW West Coast 1 wind farm. The Group has been nominated as preferred bidder for Kathu Solar Park, a 100 MW Concentrated Solar Power project, and is actively pursuing other renewable power projects in the Republic.
engie.com
Legend Power Solutions (Pty) Ltd, a South African black owned company was founded in 2005 to focus on opportunities in the Energy sector. Among the key individuals involved are business people with experience and expertise in the Energy and ICT sectors. The group has technical, regulatory and commercial expertise in developing strategic infrastructure projects in the energy and gas fields. The Directors of the Company include Mpho Scott (Chairman), Yusuf Mahomed, Mashudu Ramano, Shaheen Bawa, Cliff Lewis, Mashudu Tshivhase and Koos Smit. Mitsui & Co., Ltd. ("Mitsui") is one of the most diversified and comprehensive trading, investment and service enterprises in the world, with 140 offices in 66 countries as of May 2015. Utilizing its global operating locations, network and information resources, it is multilaterally pursuing business that ranges from product sales, worldwide logistics and financing, through to the development of major international infrastructure and other projects in the following fields: Iron & Steel Products, Mineral & Metal Resou
rces, Infrastructure Projects, Integrated Transportation Systems, Chemicals, Energy, Food Resources, Food Products & Services, Consumer Services, IT & Communication, Corporate Development Business. Mi
tsui is actively taking on challenges for global business innovation around the world.  
mitsui.com
In order to promote broad-based black economic empowerment ("BBBEE") in South Africa, the developers of the Project have founded The Peaker Trust so that South African black communities can participate through the Trust as a co-sponsor of the Project along with the other sponsors. Accordingly, following its formation, the Peaker Trust holds ten percent (10%) of the shareholding of the Avon Project Company and the Dedisa Project Company. The Peaker Trust is administered by a Board of Trustees, and its objective is to promote and advance Broad Based Black Enterprises with a preference for the empowerment of women, workers, youth, the disabled or people living in proximity to the Avon Facility or the Dedisa Facility. *
APO
]]>