Burkina Faso: No amnesty for soldiers who killed unarmed civilians
<![CDATA[
14 people, including two children, killed: six shot in the back
Hundreds injured by beatings and live ammunition, including a child born with a bullet wound
Commission of inquiry should investigate recent and historical abuses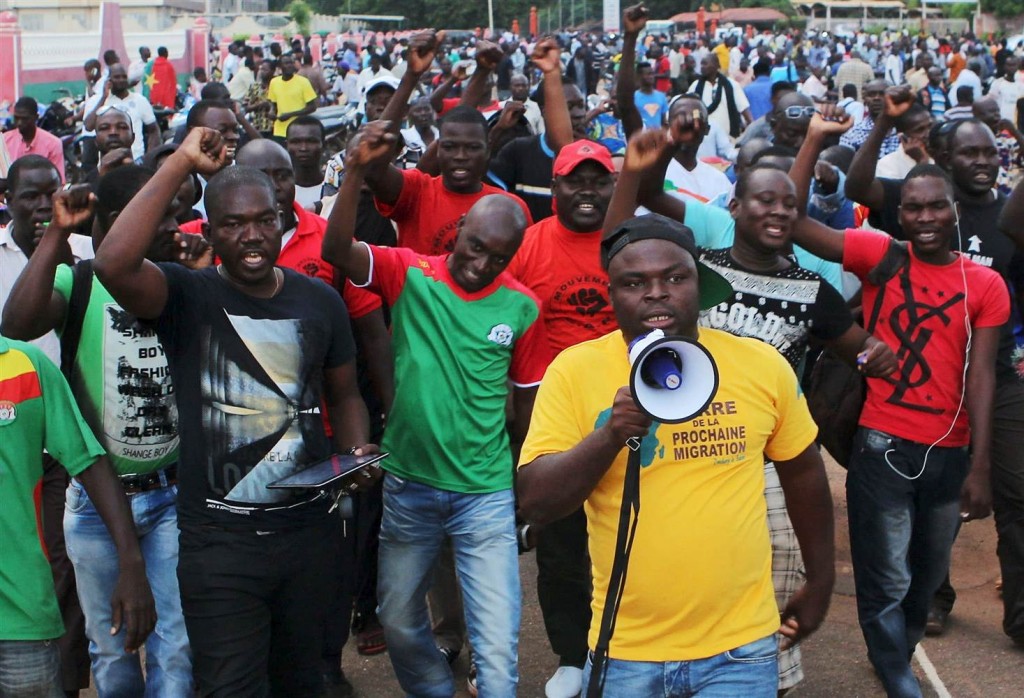 Burkina Faso's former presidential guard displayed a cold-blooded disregard for human life, killing 14 unarmed protestors and bystanders and wounding hundreds more with automatic weapons following last month's coup d'état, Amnesty International said today. Whilst General Gilbert Diendere, who led the coup, and General Djibril Bassole, former Foreign Minister, have been arrested and charged with crimes including attacking state security and murder, members of the Regiment de sécurité présidentielle (RSP) are being reintegrated into the national army. A detailed investigation by the organisation into the deaths of people killed in the days following the 16 September coup has found that 14 protestors and bystanders were killed by automatic weapon fire from members of the RSP. None of those killed, including two children, had been armed or posed any threat to the security forces. "For soldiers to gun down large numbers of unarmed protestors, including children, with automatic weapons is an outrageous use of force amounting to a crime under international law," said Alioune Tine, Amnesty International West Africa director. "RSP members have long enjoyed impunity, despite being at the heart of grave human rights violations. Independent investigations are needed to bring those suspected of criminal responsibility to justice, in fair trials without recourse to the death penalty."
Unlawful killings and injuries 
Of the 14 killed in Ouagadougou between 16 and 20 September, six had been involved in peaceful demonstrations against the coup d'état. Numerous eyewitnesses confirmed that, on several occasions, protestors were holding their hands in the air. Despite this clear display of their peaceful intent soldiers opened fire on them without warning. On 17 September, for example, RSP members arrived at a protest in front of the traditional king Moogho Naaba's palace, and began shooting in the air and towards the crowd. Two people were shot dead in the square and a journalist present described how fleeing protesters were pursued by soldiers: "As people ran away they were chased by the RSP on a motorbike and shots were fired. One protestor fell down, he was hit at the back of his neck. Blood ran out of his neck and mouth…he died later." Medical evidence seen by Amnesty International from a number of incidents shows that six of those killed were shot in the back. Eyewitnesses confirmed they had been shot whilst running away from security forces. Others killed were shot in the head, chest and thorax, indicating that soldiers who had opened fire had not attempted to minimise fatal injury. Government figures report that 271 people were injured during the post-coup violence. Medical documents consulted by Amnesty International suggest that a large proportion were injured by live ammunition, while videos and eyewitness testimony confirm that others were whipped and beaten by the RSP. One pregnant woman was shot in the stomach on 18 September whilst standing in her home in the Nonsin neighbourhood of Ouagadougou. "The bullet pierced her uterus and we had to perform a caesarean delivery," the midwife who looked after her told Amnesty International. "The child was born with a gunshot wound on the left buttock."
Human rights defenders, journalists and political parties attacked
[caption id="attachment_21504" align="alignright" width="644"]
Burkina Faso's coup leader General Gilbert Diendere arrives at the airport to greet foreign heads of state in Ouagadougou, Burkina Faso, September 23, 2015. REUTERS/Joe Penney[/caption] Amnesty International also documented restrictions on freedom of expression after the coup, including attacks by RSP on journalists, political figures and human rights defenders. In one case, the studio of Smockey, a musician and leader of the Balai Citoyen civil society movement, was seriously damaged by an anti-tank rocket. Amnesty International researchers found the shell of the rocket and bullet holes on the wall, while computers and other material were stolen.
Radio and television stations and newspaper offices were also attacked with equipment confiscated or destroyed and staff beaten and threatened. National and private radio and television networks were forced to suspend broadcasting. In one incident, members of the RSP burnt the motorbikes of staff at Radio Omega. In another the photographer Jean Jacques Konombo was kicked and beaten with a belt by more than six soldiers until he lost consciousness. Members of the transitional government who were taken hostage were also ill-treated, given no food to eat for two days and some denied required medical treatment.
Call for investigations
Based on evidence collected, Amnesty International has submitted a memorandum to the transitional authorities calling for the expansion of a planned Commission of Inquiry to investigate these killings and other human rights violations, including the shooting of at least 10 protestors during demonstrations in October 2014, and the murders of Thomas Sankara and Norbert Zongo. "Burkina Faso's transitional authorities must ensure that all human rights violations committed by the security forces, including crimes under international law, are independently and impartially investigated through an expanded Commission of Inquiry." said Alioune Tine. "Only by doing so can the country make a clean break from its past and send  a clear signal that in future such human rights violations will not be tolerated."
Background
During a two week mission in September and October 2015, Amnesty International conducted interviews with victims and their families, 55 witnesses, human rights defenders, civil society organizations and health officials, gathered details on crime scenes and had access to hospital registers. Amnesty International also examined documents concerning the cases described as well as photographs and videos. The organisation was able to undertake detailed investigations into 11 of the 14 people killed. On 25 September, the interim government announced that it was disbanding the RSP and established a commission to identify those behind the coup. General Gilbert Diendere, who led the coup, was arrested in Ouagadougou on 30 September. General Djibril Bassole, former foreign minister, was also arrested in connection with the coup. The two men were each charged with 11 offences, including threatening state security and murder. They will be tried by a military tribunal. Amnesty International opposes the use of a military tribunal in these cases, believing such trials should be held in civilian courts and military tribunals should be limited solely to trials of military personnel for breaches of military discipline. On 2 September the transitional authorities had announced the plan to establish a Commission of Inquiry with the intention to investigate the shooting of at least 10 protesters by security forces during the demonstrations in October 2014 that led to the downfall of former President Blaise Compaore. On 28 September the authorities created another Commission to investigate those suspected of being behind the coup d'état
.
*Amnesty ]]>