Africa bishops feel left out of Church synod: archbishop
<![CDATA[[caption id="attachment_21345" align="alignleft" width="300"]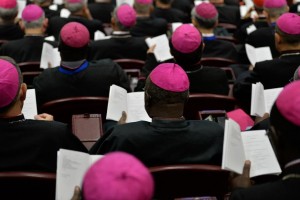 Bishops attend the second morning session of the Synod on the Family at the Vatican on October 6, 2015 (AFP Photo/Andreas Solaro)[/caption]
Vatican City (AFP) – African cardinals and bishops taking part in a global Church summit on the family at the Vatican have complained it is Euro-centric, with not enough attention paid to issues that concern their parishes.
Archbishop of Accra Charles Palmer-Buckle told a press briefing Thursday that the working document which bishops and cardinals study "appears to have been written by someone apparently lacking the African point of view".
It is a recurring complaint from African prelates taking part in the three-week synod: there is little discussion of extended families, for example, while much is said of the family units of the West, made up of a father, mother and children.
Time spent discussing the problem of lonely or abandoned elderly people also has little resonance in Africa, they say.
And a push to open the Church's doors to gay people is perhaps the issue which meets the most resistance.
Church leaders from the continent have no desire to "block the work" underway at the summit, Palmer-Buckle said, but he added: "it seems that what is good in Africa is not seen as good enough elsewhere".
Pope Francis's 2013 phrase "Who am I to judge?" in relation to homosexuals had a big impact in Africa, he said, but the issue is "culturally difficult", because attitudes cannot change "overnight… it takes time".
*
AFP/Yahoo
]]>