S.Africa's ANC rejects US charges of 'improper payments'
<![CDATA[[caption id="attachment_21083" align="alignleft" width="300"]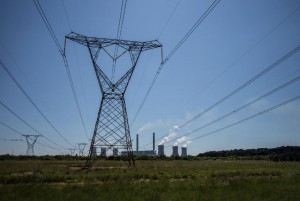 South Africa's ruling ANC denies US charges it took improper payments from Hitachi linked to power station construction projects (AFP Photo/Marco Longari)[/caption]
Johannesburg (AFP) – South Africa's ruling ANC party on Tuesday denied US charges that it took improper payments from Hitachi in connection with the construction of multi-billion-dollar power plants.
The charges stem from a deal in the late 2000's in which Tokyo-based construction company Hitachi sold a 25 percent stake in a South African subsidiary to an alleged front company of the African National Congress (ANC).
The ANC, which led South Africa's fight against the apartheid regime, has ruled the country since Nelson Mandela won presidential elections in 1994 but the party has become increasingly enmeshed in corruption scandals.
Hitachi has agreed to pay $19 million to settle the case, but the ANC dismissed all allegations of improper payment involving Chancellor House, an ANC investment company.
The US Securities and Exchange Commission (SEC) said Monday that the deal "gave the front company and the ANC the ability to share in the profits from any power station contracts that Hitachi secured." "The ANC categorically states that the organisation was not involved, implicated nor approached to answer on anything relating to the charges brought against Hitachi," Zweli Mkhize, treasurer general of the ANC, said in a statement. "The ANC was further not involved in the transaction between Hitachi and Chancellor House."
Mamatho Netsianda, Chancellor House managing director, told AFP he was "surprised" by the charge levelled by the SEC.
"(Hitachi) are the ones who have been indicted, not us," he added.
Facing mounting public pressure, in 2014 Hitachi bought back the 25 percent stake in its subsidiary from the ANC.
Delays and errors by contractors including Hitachi have held up the launch of power plants in South Africa, exacerbating dire electricity cuts that have smothered growth in Africa's most developed economy.
Mass protests against government graft are planned in Pretoria and Cape Town on Wednesday.
Public anger over alleged corruption has focused on $24 million state-funded upgrades to President Jacob Zuma's private residence.
*Source
AFP/Yahoo
]]>