President urges South Sudanese to unite to implement peace deal
<![CDATA[[caption id="attachment_20684" align="alignleft" width="450"]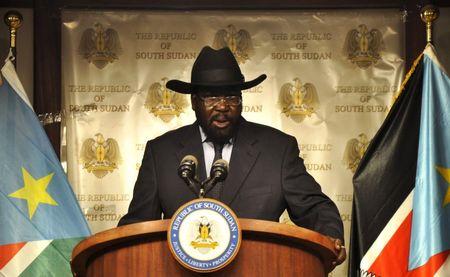 South Sudan's President Salva Kiir addresses a news conference at the Presidential palace in Juba, September 15, 2015. REUTERS/Jok Solomun[/caption] JUBA (Reuters) – South Sudan's president urged his people on Tuesday to "join hands" in implementing a peace deal to end more than 20 months of conflict, after repeated outbreaks of fighting since rebels and the government signed the pact last month.
When he signed the peace deal on Aug. 26, just over a week after rebel leader Riek Machar did so, President Salva Kiir had voiced "serious reservations" and accused African and other mediators of using intimidation to push him to agree the terms.
Since then, each side has accused the other of violating the permanent ceasefire and stoking fighting.
Kiir repeated his concerns about the deal in his statement to journalists in Juba on Tuesday, saying some elements needed to be renegotiated. For example, he criticized the deal for declaring the capital and some other places demilitarized zones.
But he told South Sudan, which declared independence from Sudan in 2011 after decades of war, that it was time to unite.
"I call upon all of you to join hands with me," he said, urging South Sudanese to work together "during the transitional period until the general elections in 2018, until we bring peace to our country."
"I am committed to peace and the implementation of the agreement," he said. Machar had also voiced reservations about some power sharing arrangements and other aspects after signing.
The rebel leader, Kiir's long time political rival who is also from a different ethnic group, is expected to become First Vice-President, bringing the two men back into the same government.
Machar was deputy president until 2013, when he was sacked during a political row with Kiir. The dispute was the catalyst for fighting that erupted in December of that year.
The fighting, which has often followed ethnic divisions, has killed thousands of people and driven more than 2 million from their homes, leaving many struggling to find enough food to eat.
The United States and other Western donors have accused the two leaders of squandering goodwill after South Sudan's independence and hindering development in an oil-producing nation with almost no tarmac roads and heavily reliant on aid.
*
Reuters/Yahoo
]]>