Managing Expectations Could Be Toughest Challenge for Nigeria's Buhari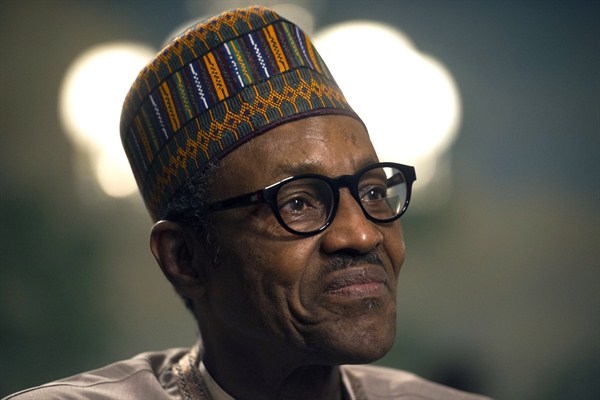 Nigeria's president, Muhammadu Buhari, spent three days last week in France, on his second major trip out of Africa since taking office on May 29. The items topping Buhari's agenda in Paris—economic investment and security cooperation—reflected his main challenges at home: an economy in turmoil and the persistent threat of the jihadi movement Boko Haram. The visit also demonstrated Buhari's patient, long-term thinking about Nigeria's problems, which includes a greater willingness to work with neighbors and international partners than his predecessor, Goodluck Jonathan.
At the same time, demands within Nigeria for immediate change confront Buhari with an imperative to demonstrate progress quickly or risk losing popularity. That includes Buhari's anti-corruption drive, which is inextricably bound up with his promise to revitalize Nigeria's economy. But his early pledges face the reality of a still-troubled economy and tough political choices ahead.
Buhari, a former military ruler and long-time opposition candidate, won the 2015 election largely because of his anti-corruption image and perceived toughness. Yet Nigeria's politics have already proved difficult for Buhari to manage. The candidate of a loose coalition, he saw quickly how friends can become rivals: His picks in the National Assembly for Senate president and speaker of the House of Representatives lost out to factions within his own party that joined with Jonathan's allies to choose parliamentary leaders. He still doesn't have a Cabinet. In July, he wrote that selecting ministers would not occur until proper rules had been established and qualified individuals had been identified. Other factors may be at work in preventing key appointments, however, including tension between Buhari and the National Assembly.
Buhari may benefit in the long term by learning directly from key permanent civil servants about the ministries' operations and developing autonomous expertise before the political appointees slide into place. But the lack of a high-profile economic team has created uncertainty for outside investors and Nigerians alike. Buhari inherited the present economic crisis from his predecessor, largely due to the sustained drop in global oil prices and a correspondingly weakened Nigerian currency, the naira. But some of the worst economic fallout has occurred since Buhari took office, whether or not he deserves blame.
The investment bank J.P. Morgan revealed this month that it is removing Nigeria from its local-currency emerging-market bond indexes, known as the Government Bond Index-Emerging Markets, because of restrictions that Nigeria's central bank put on foreign exchange trading starting last December. In Paris, Buhari promised French investors that his administration will "redress the serious infrastructural gaps in Nigeria, raise production to create more jobs . . . restore business confidence and block leakages and wastage of public resources." But the absence of senior economic policymakers—save the central bank's governor, Godwin Emefiele, who was appointed by Buhari's predecessor—could hurt the administration's image abroad and prevent the development of coherent policy responses to the economic crisis.
Meanwhile, fighting corruption could have a mixed impact. One of Buhari's biggest initiatives so far has been introducing the Treasury Single Account, a bank account managed by the central bank meant to reduce opportunities for corruption that exist when each agency manages its own funds. All federal ministries, departments and agencies were required to closetheir separate accounts and deposit the money into the single account by Sept. 15. But the Financial Times warned that the move could "worsen a looming credit crunch faced by Nigeria's financial sector, one of the chief concerns cited by JP Morgan last week." The central bank released dollars into the market to compensate for the impact of the Treasury Single Account, but it continues to face pressure to further devalue the naira.
Fighting corruption is meant to bolster the economy. This does not just mean stopping losses of public monies. Buhari has also repeatedly stressed that recovering stolen money is a priority for his administration and necessary for revitalizing the economy. Such moves are difficult in practice, however. For example, it took 16 years of court battles to get Switzerland to return $380 million, just part of what former dictator Gen. Sani Abacha, who ruled from 1993 to 1998, stole from Nigeria.
Recovering more-recent losses could be even more difficult and sensitive. Nigeria's Premium Times recently reported that Jonathan authorized withdrawals of more than $337 million from the central bank for "special services" in the weeks before this year's elections. Going after Jonathan could cause a political backlash, particularly in the oil-producing Niger Delta, his home region. But many Nigerians are outraged by such reports. Buhari faces a tough choice: Whether to draw a line and not prosecute past corruption, as he suggested during the electoral campaign, or to go after all suspected thieves.
While Buhari deliberates on the economy, he has moved more quickly on security, Nigeria's other major threat. One of his first decisions after taking office was to move the military's headquarters to the northeastern state of Borno, the epicenter of the Boko Haram insurgency. He also visited neighboring Niger, Chad and, after the summer, Cameroon. All those countries are confronting Boko Haram, and Buhari seeks to reassure them that Nigeria will be a forceful but consultative leader in the fight.
He showed that at home by replacing the military's service chiefs in July, winning acclaim by selecting a chief of army staff and a national security adviser from Borno. Yet even on security, Buhari may not be effectively managing expectations. It will be impossible for the military to defeat Boko Haram by November, as he has called upon them to do. Boko Haram's tenacity, most recently evident in a bombing that killed more than 100 people in Borno's capital, Maiduguri, is one reasonthat Buhari is looking further afield for help. In Paris, Buhari asked France to increase its "satellite intelligence and air support" to Nigeria's military. French President Francois Hollande, who has made security cooperation with Nigeria a priority, responded favorably, offering to set up a Franco-Nigerian high command. But even with this assistance, Nigerians who expected Buhari to crush Boko Haram quickly will likely be disappointed.
Going forward, the tension between patient reform and high expectations will play a large role in determining Buhari's political fate. If he can continue to convince a broad swath of the elite and the public that his emphasis on long-term and fundamental change will eventually result in a more stable and prosperous Nigeria, then he can hold his political coalition together and enact his agenda. If, however, images of Buhari as a tired old man, full of promise but short on implementation, take hold, then discontent with his approach will grow. Partners like France are working to support Buhari, but he has a limited period of time to demonstrate clear progress on the economy—and to convince the public that containing Boko Haram will happen, but not overnight, despite his initial promises.
*Source World Politics Review.Alex Thurston is a visiting assistant professor in the African Studies Program at Georgetown University. Follow him on Twitter @sahelblog.