Burkina Faso army launches operation near presidential guard camp
<![CDATA[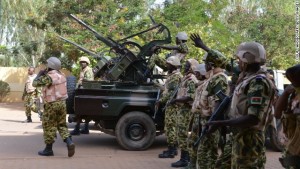 OUAGADOUGOU (Reuters) – Burkina Faso's army took up positions on Tuesday outside the presidential guard's camp in the capital Ouagadougou, a day after the military's chief of staff said the elite unit was refusing to disarm after a short-lived coup.
In a statement, the chief of staff called on the population of the capital to avoid the Ouaga 2000 district, where the camp is located, close to the presidency, and for residents of the neighbourhood to remain indoors.
In a separate statement directed at media, the army requested that journalists stay clear of deployed troops and not reveal their position "in order not to compromise the operation under way".
The Presidential Security Regiment (RSP) took the president, prime minister and cabinet members hostage earlier this month and named General Gilbert Diendere, a close ally of ousted president Blaise Compaore, as head of state.
The week-long coup ended with the restoration on Wednesday of the government, which disbanded the special unit during its first cabinet meeting following the putsch. Regular troops began disarming the RSP over the weekend.
The chief of staff said on Monday, however, that RSP officers were refusing to participate in the process and accused General Diendere of hindering the disarmament.
*Source
Reuters/Yahoo
]]>