Amnesty warns of conflict diamond stockpile in C.Africa
<![CDATA[By Ruth Holmes* [caption id="attachment_21077" align="alignleft" width="300"]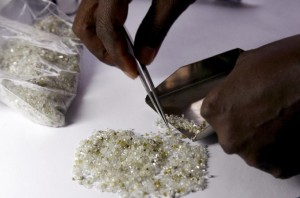 The export of diamonds from the Central African Republic was banned in 2013 under the Kimberley Process, which aims to stem the flow of so-called "conflict diamonds" (AFP Photo/Issouf Sanogo)[/caption]
London (AFP) – Amnesty International on Wednesday called on the Central African Republic to confiscate and sell diamonds amassed by traders worth millions that could be fuelling militia violence and child labour.
Huge stockpiles of possible conflict diamonds could end up on the global market when a ban on exports from the country is lifted, the rights group said in a report.
Researchers also documented a string of human rights abuses in CAR diamond mines, with children as young as 11 working in hazardous conditions, carrying out "backbreaking work for very little money".
The export of diamonds from the Central African Republic was banned in 2013 under the Kimberley Process, which aims to stem the flow of so-called "conflict diamonds".
The ban will be partially lifted once the government meets conditions set in July 2015 by the Kimberley Process.
However, trade in diamonds has continued despite the ban, with thousands of small artisanal miners selling to traders who sell on to export companies in Bangui, according to the report.
Militias responsible for ongoing sectarian violence could be profiting from the sales due to inadequate checks by diamond firms, the rights group warned.
Many of the diamonds remain stockpiled in the capital, while others have been smuggled to neighbouring Cameroon and Democratic Republic of Congo from where they are "highly likely" to be sold on the international market, it said.
The UN estimates that 140,000 carats of diamonds have been smuggled out since mid-2013.
– 'Illicit flow' –
"The government should confiscate any blood diamonds, sell them and use the money for the public benefit," said Lucy Graham, a legal adviser for Amnesty and author of the report.
"The people of CAR have a right to profit from their own natural resources," she said.
The report also looked at the key diamond trading centres of Dubai and Antwerp, in Belgium, accusing traders of price manipulation and tax avoidance. It claimed that "the UAE government may be complicit in the illicit flow of wealth out of Africa".
The Central African Republic erupted into sectarian violence following a 2013 coup against longtime leader Francois Bozize that pitted mainly Muslim Seleka rebels against predominantly Christian anti-balaka militias.
Amnesty International said both groups were profiting from the diamond trade by controlling mines and extorting protection money from miners and traders.
[caption id="attachment_21079" align="alignright" width="300"]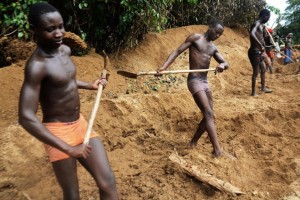 Men work in a diamond mine in Banengbele, on May 22, 2015 in the Central African Republic (AFP Photo/Patrick Fort)[/caption] It accused two major buying houses, Badica and Sodiam, of purchasing diamonds "without adequately investigating whether they have funded armed groups". Sodiam has amassed a 60,000 carat diamond stockpile worth US$7 million (6.2 million euros), the report said. The report comes after a UN sanctions committee imposed an assets freeze in August on Badica and its sister company Kardiam for supporting armed groups in CAR through illegal trading. Sodiam denies ever buying conflict diamonds and says that it does not buy diamonds from mines controlled by rebel groups or traders known to associate with them. Violence flared again in Central African Republic at the weekend when deadly clashes broke out following the murder of a Muslim motorcycle-taxi driver in Bangui.
The streets of the capital were deserted Tuesday with terrified residents sheltering indoors and tens of thousands fleeing their homes after three days of shooting and bloodshed that have left at least 36 dead, according to the UN.
The country is preparing for key parliamentary and presidential elections in October, seen as a test of progress in its political transition.
*Source
Yahoo/AFP
]]>