What next for Zimbabwe's Joice Mujuru? 3 Possibilities
Once a front runner to succeed Mugabe, the former VP is now tending to her rural farm. But is it too early to write off Joice Mujuru?
By Problem Masau*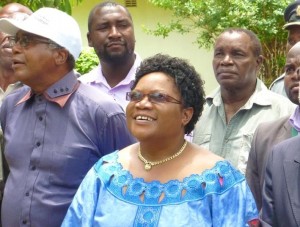 Joice Mujuru, Zimbabwe's former vice-president, was once touted as the natural successor to President Robert Mugabe. The veteran politician had long been in the inner circle of Zimbabwe's leader, who has now been in power for 35 years, and looked well-positioned to take over if and when he stepped down.
However, that all changed ahead of the ruling party's congress in December 2014. In a well-orchestrated plot spearheaded by Mugabe's wife, Grace, Mujuru was accused of a litany of crimes that ranged from plotting to assassinate the president, to dividing the party, to using witchcraft.
Mujuru watched helplessly as Grace attacked her on national television day after day. And by the time Zimbabwe's first lady had finished political rallies in the country's 10 provinces, it was evident Mujuru was going to be purged from both the ruling ZANU-PF party and the government.
At party congress in December, the once powerful Mujuru was reduced to an ordinary card-carrying member.
Since then, the former vice-president has maintained a low profile. This may well continue, which would leave Emmerson Mnangagwa, another veteran insider who replaced Mujuru as vice-president, as Mugabe's most likely successor. However, it may be too soon to write off Mujuru just yet.
We do not know what is going in Mujuru's head, but we see three possibilities for what might be next for once revered VP.
Possibility 1: Mujuru walks away
Since she was sacked from government, Mujuru has relocated to her farm 40km south of Harare. Pictures of her at her farm have circulated on social media and she seems happy in her new role.
According to court papers, Mujuru's late husband, General Solomon Mujuru, left behind vast riches and businesses across the country, including farms, mines, real estate and pharmaceuticals companies.
With Joice now in charge of these entities, she could be one of the richest women in the country and could lead a very comfortable life away from politics. In fact, for the past eight months, Mujuru has shown no interest in returning to the political fray, even avoiding national events such as the recent Heroes' Day commemorations.
If Mujuru were to stay away from politics permanently, it is likely Mugabe will leave her alone in return. However, for someone who has lived and breathed Zimbabwean politics since she was a teenager, the prospect of Mujuru turning her back on events in Harare's corridors of power for good may be slim.
Possibility 2: Mujuru re-joins the party
While it might seem far-fetched, another possibility is that Mujuru will be brought back in from the ZANU-PF cold.
In the past, Mugabe has extended an olive branch to former political nemeses when it has suited him. In 1987, for example, the president signed the Unity Accord with fierce rival Joshua Nkomo and made him his vice-president. Similarly, over the past couple of decades, the influential Jonathan Moyo has fallen in and out with the Mugabe administration; once expelled from the party, Moyo is now a government minister.
When it comes to Mujuru, one might be able to read signs of a possible reconciliation in the pipeline too.
Mugabe appointed some of Mujuru's close allies – such as Nyasha Chikwinya and Ambrose Mutinhiri – in a recent cabinet reshuffle, and has confessed that the expulsion of Mujuru and her allies has failed to stop factions angling to succeed him in his party.
For her part, Mujuru has tended to avoid criticising her former boss publicly, saying that she was taught during the days of the liberation struggle not to question her superiors.
However, the possibility of a Mujuru return to ZANU-PF fold would likely meet resistance from other bigwigs. For instance, Grace Mugabe, who many believe is now the centre of power in the party, would probably still see Mujuru as a potential threat.
Furthermore, two of Mujuru's close allies – former Presidential Affairs Minister Didymus Mutasa and former ZANU-PF spokesperson Rugare Gumbo – say that she has no intention of re-joining the ruling party.
Possibility 3: Mujuru forms her own party
A final possibility for the ousted vice-president then is that she stays in politics but forms her own party. Mutasa and Gumbo have already indicated that they have laid the groundwork for a party which Mujuru would lead.
They have used the slogan "People First" in different forums, which suggests that could be the name of the party. And in one of her press statements early this year, Mujuru used the slogan herself.
Mujuru has also sought to distance herself from ZANU-PF by publicly apologising for "aiding" Mugabe's "misrule" for the past 34 years.
If this is indeed Mujuru's plan, it could send shivers through the ruling party. The former VP is reportedly popular with ordinary people, especially in contrast to her likely rival, Emmerson Mnangagwa, who has been nicknamed The Crocodile and has a reputation for being ruthless.
In fact, Mnangagwa was defeated in his constituency of Kwekwe Central in consecutive elections, in 2000 and 2005, before switching to the safer seat of Chirumanzu-Zibagwe for the 2008 elections.
Mujuru also still enjoys support within ZANU-PF itself and is said to have had to loyalty of 9 of 10 provinces when she was sacked. The leaders of these nine provinces were expelled along with her.
Many factors thus fall in Mujuru's favour. But if she is considering launching her own party to contest the 2018 elections, she will be well aware that the road to power will not be straightforward.
Having worked with Mugabe, she will be all too familiar with how he deals with his opponents. The veteran president has arrested, violently harassed and intimidated his rivals for decades, and Mujuru might decide to only form a political party just before 2018 so that Mugabe will not have enough time to dismantle her politically.
Mujuru will also have to woo Zimbabwe's powerful security chiefs, some of whom have previously vowed never to salute anyone other than President Mugabe and have been pivotal in keeping him in power.
Will Mujuru want to confront these hugely risky challenges? Would she consider a return to ZANU-PF if welcomed? Or would she rather just bow out and retire to her businesses?
Only time will tell. But it would be too soon to forget about the once-admired and still-influential veteran MP just yet.
*Source African Arguments.Problem Masau is a Zimbabwean journalist.