US President Barack Obama upbeat on Africa on eve of Kenya visit
<![CDATA[
[caption id="attachment_19458" align="alignleft" width="600"]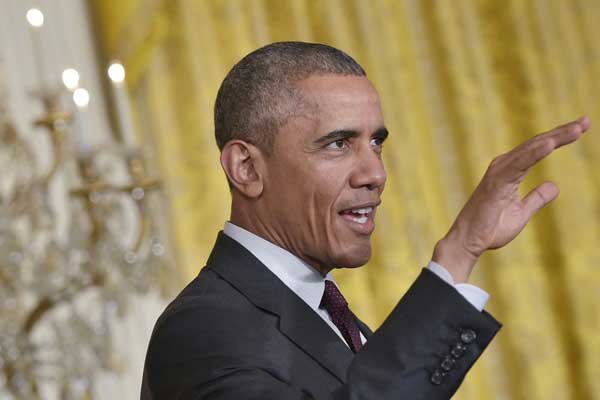 US President Barack Obama. His visit to Africa this week marks his fourth since taking office — more than any other sitting US president. AFP PHOTO | MANDEL NGAN[/caption]
On the eve of his trip to Africa, US President Barack Obama said he was excited about the impending visit to his ancestral continent, which he said had great resilience and enormous potential for growth.
Obama is due to leave on Thursday for Kenya, marking his first presidential visit to the homeland of his father.
From Kenya, Obama will trace the Great Rift Valley northward to Addis Ababa, becoming the first US president to visit Ethiopia.
"Despite its many challenges — and we have to be clear-eyed about all the challenges that the continent still faces — Africa is a place of incredible dynamism, some of the fastest-growing markets in the world, extraordinary people, extraordinary resilience," Obama said at a reception late Wednesday.
The continent "has the potential to be the next centre of global economic growth," he said at the event, which celebrated the African Growth Opportunity Act, the US trade legislation which aims to help bolster Africa's prosperity.
STRENGTHEN TIES TO AFRICA
The US leader hailed a catalogue of accomplishments notched during his presidential tenure that have helped strengthen Washington's ties to Africa.
"As president, I've worked so hard to take our relationship with Africa to a new level," Mr Obama said.
"We've boosted US exports. We've launched historic initiatives to promote trade and investment, health, agricultural development and food security, power Africa to promote and expand electrification," he said.
The US president also praised the enduring nature of the connection between Africans and Americans.
AFRICAN PEOPLE LOVE THE US
"The ties to Africa here in the United States obviously are deep; they are long; they're complicated," Obama said.
"There have been times where there have been misunderstandings, and there have been times where there have been suspicions.
"But when you look at every survey, it turns out that the people of Africa love the United States and what it stands for," he said.
"Despite poverty, despite conflict, there is a strength and a resilience there," Obama said.
"The opportunities are extraordinary, and we just have to break down the stereotypes and the barriers."
Obama's visit to Africa this week marks his fourth since taking office — more than any other sitting US president.
"If your name is Barack Obama, I guess that makes sense," he joked, to the laughter from the audience.
]]>