US issues Kenya travel warning ahead of Obama visit
<![CDATA[
Nairobi (AFP) – The United States has warned its citizens in Kenya ahead of visit by President Barack Obama of the risk of terrorist attacks, singling out a conference that Obama is due to address.
[caption id="attachment_19220" align="alignleft" width="300"]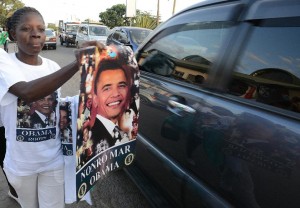 A Kenyan trader tries to sell a poster with the image of US President Barrack Obama to motorists during the Luo cultural festival in Nairobi, on July 11, 2015 (AFP Photo/Simon Maina)[/caption]
The US president is scheduled to give a speech to the Global Entrepreneurship Summit (GES) in Nairobi, which opens on July 24.
"As with all large public events, there is the opportunity for criminal elements to target participants and other visitors," the US State Department said in a statement.
"Large-scale public events such as this summit can also be a target for terrorists. US citizens should maintain a high level of security awareness."
Kenya has been hit by a string of attacks by the Somali-led Shebab insurgents.
In April, the Al-Qaeda-linked militants massacred 148 people at the region's Garissa University, most of them students.
In 2013, four Shebab gunmen killed at least 67 people in an assault on the Westgate mall in the capital Nairobi. The US embassy in Nairobi, in its previous warning last issued in May, said its citizens should be "aware of continuing and recently heightened threats from terrorism and the high rate of violent crime in some areas." Obama's visit later this month will be his fourth to Africa since becoming US president, but his first to Kenya since taking office in 2009, his father's birthplace. Kenyan troops crossed into Somalia in 2011 to fight the Al-Qaeda-linked insurgents, and later joined the African Union force, AMISOM, which is supporting Somalia's internationally-backed government. The Shebab have since stepped up their operations in Kenya, dealing a blow to plans for the troops to serve as a buffer and protect the long, porous border.
After Kenya, Obama then travels on to neighbouring Ethiopia, where he will become the first sitting American leader to visit.
Ethiopia and Kenya have both been on the frontline of the fight against the Shebab, and have been important security partners to Washington.
*
AFP/Yahoo
]]>