The Rise Of Silicon Savannah And Africa's Tech Movement
<![CDATA[By   Jake Bright *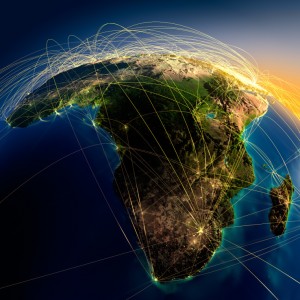 Tech will be on President Obama's agenda as he hosts the Global Entrepreneurship Summit in Kenya, taking along internet pioneer Steve Case and Airbnb CEO Brian Chesky. Nascent as it may be, Sub-Saharan Africa (SSA) does have a promising tech sector — a growing patchwork of entrepreneurs, startups, and innovation centers coalescing country to country. Kenya is now a recognized IT hub. Facebook recently expanded on the continent. And Silicon Valley VC is funneling into ventures from South Africa to Nigeria. These pieces are coming together as Africa's budding tech culture and ecosystem emerge. The Rise of Silicon Savannah Most discussions of the origins of Africa's tech movement circle back to Kenya. From 2007 through 2010 a combination of circumstance, coincidence, and visionary individuals laid down four markers inspiring the country's Silicon Savannah moniker:
Mobile money,
A global crowdsourcing app,
Africa's tech incubator model; and
A genuine government commitment to ICT policy.
In 2007, Kenyan telecom company
Safaricom
launched its
M-PESA
mobile money service to a market lacking retail banking infrastructure yet abundant in mobile phone users. The product converted even the most basic cell phones into roaming bank accounts and money-transfer devices. Within two years M-PESA was winning international tech awards after gaining nearly six million customers and transferring billions annually. The mobile money service shaped the continent's most recognized example of technological leapfrogging: launching ordinary Africans without bank accounts right over traditional brick-and-mortar finance into the digital economy. Shortly after M-PESA's arrival, political events in Kenya would inspire creation of one of Africa's first globally recognized apps,
Ushahidi
. In late 2007, four technologists — Erik Hersman (an American who grew up in Kenya), activist Ory Okolloh, IT blogger Juliana Rotich, and programmer David Kobia—linked up to see what could be done to quell sporadic violence as a results of an inconclusive presidential election. Over a three-day period the techies came up with the Ushahidi app (meaning "witness" in Swahili) to digitally, rapidly, and publicly track outbreaks of violence during Kenya's election crisis. The Ushahidi software that evolved became a highly effective tool for digitally mapping demographic events. As Kenya shifted back to stability, requests came in from around the globe to adapt Ushahidi for other purposes. By the end of 2008, the app had become Ushahidi the international tech company, which now has multiple applications in more than 20 countries. Soon thereafter Erik Hersman would flesh out the ideas that spurred Africa's innovation hub movement. He wrote in a blogpost to other techies, that what African tech needed was "permanent community spaces. Hubs…in major cities with a focus on young entrepreneurs. . . . Part open community workspace (co-working), part investor and VC hub and part idea incubator. The nexus point for technologists, investors, [and] tech companies." These exchanges hatched the
iHub innovation
center on Nairobi's now African IT–synonymous Ngong Road. Since 2010 152 companies have formed out of iHub. It has 15,000 members and on any day, numerous young Kenyans work in its labs and interact with global technologists such as Yahoo CEO Marissa Mayer (a past speaker). iHub gave rise to Africa's innovation center movement, inspiring the upsurge in tech hubs across the continent. Rounding off Silicon Savannah hallmarks M-PESA, iHub, and Ushahidi was the completion of the
TEAMs
undersea fiber optic cable, which arrived in Mombasa  in 2010, and significantly increased broadband in East Africa. The project was largely the vision of Kenya's then Permanent Secretary in the Ministry of Information and Communications, Bitange Ndemo, who saw benefits in "developing Kenya's Information Communication Technology (ICT) infrastructure toward the country becoming a regional ICT hub."  An ICT master plan he shaped in 2006 would eventually became the template for the Kenyan government's strong commitment to ICT policy. By 2013 Kenya formed its own fully staffed ICT Authority.
Africa's Emerging Tech Landscape
Notable as it has become, Silicon Savannah is but one corner of Africa's tech movement. Across SSA new Silicon Savannahs are in the making and the components of a budding SSA IT ecosystem are emerging.
Tech Incubators
iHub-like innovation centers are becoming a mainstay of the continent's progressing ICT infrastructure. In 2015 Zambia's
Bongo Hive
and the Boston-based Fab Foundation tracked 170 innovation spaces across SSA–organizations like Nigeria's
CCHub
, Uganda's
Hivecolab
, and Ghana's
Meltwater
–where techies come together daily for a variety of training and programs. Africa's tech hubs are taking on many different characteristics. Some are more communal, grant based and social venture focused, while others shift toward profit oriented, startup accelerators models. Whatever the focus, these IT spaces are becoming central connect points for ideas, entrepreneurs, investment, and innovation across the continent.
Junior and Senior Techies
Bolstering SSA's IT hubs is the rise of a distinct African tech culture—a movement to embrace technology in multiple forms, particularly among youth. Many members of the continent's innovation spaces are in their 20s or even younger. An established group of techies–most of most of whom studied in the U.S. and worked in American IT–is also emerging. These include iHub's Erik Hersman and Juliana Rotich, Senegalese born, UK–based business-woman Mariéme Jamme, and
AppsTech
CEO Rebecca Enonchong. Nigeria has
Konga
's Sim Shagaya and Hopstop founder
Chinedou Echerou
. In addition to running various IT ventures, these individuals are becoming global spokespeople for African tech and mentors to some of its youngest aspirants.
Investment and Startups
Three channels of funding into Africa's IT ecosystem provide indicators of its future. One on level grant donations are funneling into the continent's innovation hubs, app competitions, and social venture focused startups. Sources include U.S. foundations (Omidyar network to iHub), aid agencies (USAID to mLabs), and African governments (Nigeria's funding of
iDEA Hub
). Global tech companies are also expanding operations into Africa. Facebook recently named its first Africa head and SSA office. SAP  announced it will invest $500 million through 2020 to introduce some of its newest technologies to the continent. And IBM opened its first Africa research center in Kenya–a $100 million facility creating an African version of its Watson supercomputer, dubbed Project Lucy. And finally, there's a surge in VC funding and African startups. Our analysis indicates existence of nearly 3,500 new tech-related ventures in SSA. Countries such as Nigeria are in the midst startup booms. In Africa's most populous nation and largest  economy hundreds of online portals are popping up to provide just about every commercial service and solve any business problem. There are first-time dotcoms for fashion (
Fashpa
), digital payments (
Paga
), shipping (
ACE – Africa Courier Express
), employment (
Jobberman
), airline bookings, and digital movies and music (
SOLO
). The value of VC investment fueling Africa's startups is quickly moving from the millions to billions. Adding analysis to data provided by CrunchBase, we were able to confirm more than $400 million in VC funding for African startups in 2014 and project at least $1 billion in VC investment in Africa's tech startups for the period 2012–2018. [Chart 1]  Big takers are Nigeria's e-commerce ventures Jumia and Konga, who are banking on scaling digital commerce to Africa's most populous nation and beyond [Chart 2].
Four Things to Expect in African Tech's Future
State ICT Competition: Following Kenya's lead, there are growing expectations on African governments to flesh out ICT plans and infrastructure. Countries such as Rwanda, Nigeria, and Ghana are already feeling the pressure, conscious of the success of Silicon Savannah.
Tech Disrupting Development: IT in Africa will continue to be employed to solve longstanding socio-economic problems. Aid-agency grants previously going to NGOs are already being diverted to social-venture focused African tech organizations. On the corporate side, a directive for IBM's Lucy Project is solving many of "Africa's grand challenges"– many of which have been relegated to the development sector. Cracking the continent's longstanding problems will increasingly become a commercial tech opportunity.
African Tech Solutions With Global Application: M-PESA has become a case study for global digital payments. U.S. political campaigns used Ushahidi in the last presidential election. Africa's solar powered, BRCK wifi device is being used in Internet dead spots in Wisconsin. And video on demand site iROKO partners, which was created to solve monetization and distribution problems for Nigerian movies, is now being eyed by Netflix to sell U.S. digital goods in Africa. Most of SSA's tech applications are developing as solutions to local problems, but this is creating unforeseen opportunities for other markets and will continue to do so.
SSA's First Exits, IPOs, and Tech Moguls: It's only a matter of time before one of Africa's commercially oriented startups scales a revenue generating platform to large numbers of people and creating continent's first big acquisition, IPO, and first Mark Zuckerberg type sensation.
"These things are coming," said 
EchoVC
investor Eghosa Omoigui. "There are IPO-potential startups growing in Africa. You will see tech companies coming out of Africa with gigantic revenues, enough to support a public launch on a local exchange, or even go out on NASDAQ." We predict e-commerce, digital finance, or a video on demand platform starting in Nigeria will create African tech's first billion dollar home run. *Source
Crunch.com
]]>