Prime Minister Of Burkina Faso Yacouba Izaac Zida Resigns Following RSP Tension
<![CDATA[By Michelle FlorCruz* [caption id="attachment_19023" align="alignleft" width="300"]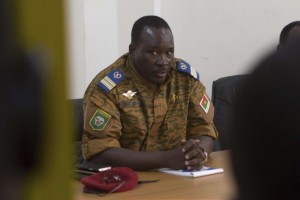 Yacouba Isaac Zida resigned Sunday as prime minister of Burkina Faso. He is pictured here meeting with opposition leaders in Ouagadougou, Nov. 2, 2014. Reuters/Joe Penney[/caption]
Yacouba Izaac Zida resigned Sunday as prime minister of the West African nation of Burkina Faso amid rising tension between the premier and the country's presidential security regiment, the RSP. The resignation follows a year of turmoil after a civilian uprising ousted former President Blaise Compaore and left the country in the hands of a transitional government.
Citing a local Burkinabe political source, Afrika TV reported Zida's resignation threatens the viability of the country's upcoming elections, which are slated for October.
Risk analysis publication IHS Jane's 360 reported pre-existing tension between the RSP and Zida mounted in the past week after gunshots reportedly were fired inside the RSP camp in what was understood to be a protest against the questioning of two RSP leaders who were suspected of attempting to arrest the prime minister. The clash between the RSP and Zida began in February when the premier threatened to disband the group to which he once belonged along with the ousted Compaore.
The RSP has taken its case to sack the premier to President Michel Kafando who responded by calling for calm.
"This tension between the government and RSP could actually threaten the stability of the country," Cynthia Ohayon, the West Africa analyst for the International Crisis Group, told Voice of America ahead of Zida's resignation. "It has created a mini-crisis in the past especially in February and December last year."
Agence France-Presse reported the RSP is also calling for the resignation of Security Minister Auguste Denise Barry in an attempt to remove all military from top government positions.
However, the RSP is not free from criticism either. AFP reported dozens of civil society groups in Burkina Faso urged the government to disband the RSP, calling its operations "illegal" and a threat to stability.
*Source IB Times
]]>