Nigeria appoint Sunday Oliseh as new coach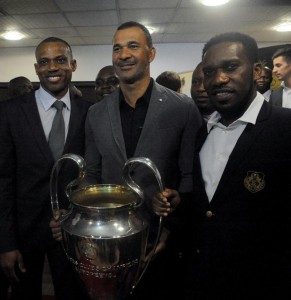 Abuja (AFP) – Nigeria on Wednesday appointed former international captain Sunday Oliseh as their new coach on a three-year contract.
Oliseh said it was an honour to lead the Super Eagles, but warned that he alone was not capable of turning around the country's footballing fortunes.
"It a great honour to be coach of this nation," he said at a media presentation in Abuja Wednesday.
"First of all, I am not coming as a Messiah. I am not coming as a man who can single handedly turn Nigeria into Germany.
"I am coming in to do my best and give, if possible, 150 percent all the time.
"The state we are now in in Nigeria I think we are all not happy with. Gone are the days we have individual players who can single handedly win a match for you. But we have the potential and that is our belief and the players must know that it's an honour to be invited to the national team."
Amaju Pinnick, president of the Nigeria Football Federation (NFF), praised Oliseh.
"Today is another historic day in the history of Nigeria football. Today we have been able to present the Pep Guardiola (Bayern Munich coach) of Africa," Pinnick remarked.
"We know that Sunday Oliseh can deliver. Talking to Sunday Oliseh, we are very excited, about his advancement. On the field we have not been able to have a replacement for him.
"As a member of the FIFA technical study group, he is vastly travelled and trained.
"I can assure you that we are going to have one of the best coaches Nigeria ever had.
"On behalf of the federation we will give him 100 percent support. We will follow all the clauses of this contract."
Oliseh, 40, has replaced Stephen Keshi, who was sacked recently for a breach of trust.
The midfielder played for several top European clubs including Juventus, Borussia Dortmund and Ajax Amsterdam as well as featuring at two World Cups with Nigeria.
He also won Olympic gold in 1996 as well as the Africa Cup of Nations in 1994.
Oliseh holds a UEFA pro coaching license and is a member of the FIFA technical study group.
The immediate tasks for the new Nigeria will be a 2017 Africa Cup of Nations qualifier away in Tanzania in early September as well as a friendly some days later.
"There is no time to waste. The team have important matches to play in the next few weeks and it is imperative that Oliseh starts work immediately," NFF general secretary Mohammed Sanusi said.