Global slowdown boosts Africa's hopes of achieving development goals
<![CDATA[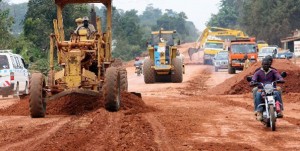 ADDIS ABABA (Thomson Reuters Foundation) – Africa is likely to benefit from weak global growth by attracting more investment that will drive its development, experts said at a financing conference in Ethiopia on Wednesday.
Investors have been pouring money into Africa in recent years, buoyed by its strong economic growth and improved governance amid slow growth in Europe, China and the United States.
"As the global economy continues to be sluggish and large emerging markets slow down, clearly the future is on this continent," African Development Bank (AfDB) President Donald Kaberuka said.
"They need this continent… because their own economies have reached a point, I think, of no return."
The global economy should expand by 3 percent this year, according to the International Monetary Fund, amid continued uncertainty over Greece's debt crisis and volatile Chinese financial markets.
Africa is home to some of the world's fastest-growing economies, such as Ethiopia which has double digit growth.
"Africa is the destination for the investors of tomorrow," Ethiopian Prime Minister Hailemariam Desalegn said at an event focused on African development.
"Twenty years ago, investors were enthralled by… tiger economies from Southeast Asia. Today, it is Africa's emerging lion economies that are increasingly attracting investment at scale."
African government bonds outperformed emerging market bonds globally in 2014, according to the JP Morgan index.
One key talking point at the conference is the increased role of the private sector in bankrolling the United Nations' bold new global development agenda, at a time of shrinking aid budgets. The United Nations estimates it will cost between $3.3 trillion and $4.5 trillion a year to implement the Sustainable Development Goals, which aim to end poverty and hunger, combat climate change and achieve gender equality by 2030.
Development aid accounts for only 22 percent of external flows to Africa, less than half the percentage of gross private capital flows, Desalegn said.
Investment in infrastructure, industrialization and agriculture are critical to transforming the world's poorest continent, the experts said. Sub-Saharan Africa needs to spend $93 billion a year over the next 10 years on infrastructure, but less than half of that is currently being provided, according to the AfDB. It is working to close this $50 billion a year gap and has, through its new Africa50 fund, raised almost $1 billion from regional governments to develop roads, ports and energy projects across the continent. "It's very difficult to do manufacturing when your power keeps cutting out," said AfDB Vice President Solomon Asamoah. The potential is huge as Africa tends to add little value to its exports. Most African oil-producing states export crude oil and then import refined petroleum products.
Africa imported 83 percent of its food in 2013, said Carlos Lopes, executive secretary of the Economic Commission for Africa.
Anti-poverty groups question the private sector's increasingly prominent role in development, saying its projects are often costly and secretive.
*Source
Reuters/Yahoo
]]>