Chad ex-dictator rejects trial; Judge commands attendance
<![CDATA[
By CARLEY PETESCH*
[caption id="attachment_19340" align="alignleft" width="300"]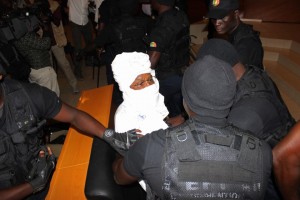 Security personnel surround former Chadian dictator Hissene Habre inside the court, in Dakar, Senegal, Monday, July 20, 2015, The trial of former Chadian dictator Hissene Habre accused of overseeing the deaths of thousands had a chaotic beginning Monday as security forces ushered the ex-leader into and then out of the Senegal courtroom amid protests by his supporters. (AP Photo/Ibrahima Ndiaye)[/caption]
DAKAR, Senegal (AP) — Former Chad dictator Hissene Habre on Monday denied the legitimacy of the special court set up to try him in Senegal for the deaths of thousands during his rule, but the head of the tribunal said he would be compelled to participate.
Habre's lawyers said he was forced to attend the first day of his trial for crimes against humanity, war crimes and torture — an unprecedented case of one African country trying the former leader of another — but he was quickly ushered back out after he and a few supporters in the court caused chaos.
"This is not a trial, this is a masquerade!" the white robed Habre shouted as he was taken away. "There is no trial. There are no lawyers. This is a false trial. Down with colonialism."
The Extraordinary African Chambers, a special tribunal, was created to try him in Senegal for the alleged crimes during his 1982-1990 rule.
Habre later issued a statement saying he had been illegally detained and would "not respond to the court." Tribunal head Gberdao Gustave Kam read the statement, adjourned proceedings until Tuesday and said Habre would be made to attend.
Lawyers for Habre have threatened to boycott the trial and one of them, Cire Cledor Ly, removed his legal robes in protest and took a seat in the court audience.
"They talk of international justice in Africa?" said Cledor Ly. "This is theater."
Habre was first indicted by a Senegalese judge in 2000, according to Human Rights Watch, but twists and turns, arrests and releases over more than a decade brought the case to Belgium, and then finally back to Senegal, where Habre fled after being overthrown in 1990.
Under a new president, Senegal's national assembly adopted a law to create the special tribunal.
It is the first trial in Africa of a universal jurisdiction case, in which a country's national courts can prosecute serious crimes committed abroad, by a foreigner and against foreign victims, said Human Rights Watch. It is also the first time the courts of one country are prosecuting the former ruler of another for alleged human rights crimes.
"This is a first in Africa, and we must extend congratulations for this," said Mbaye Gueye, a neutral legal representative who addressed the court and called for a fair trial.
Many have argued that the International Criminal Court unfairly targets African leaders, so a fair trial with a credible verdict could support the argument that Africans can try their own.
[caption id="attachment_19341" align="alignright" width="300"]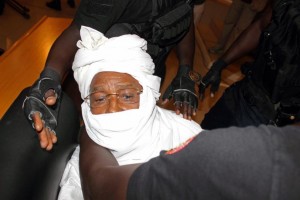 Security personnel surround former Chadian dictator Hissene Habre inside the court in Dakar, Senegal, Monday, July 20, 2015. The trial of former Chadian dictator Hissene Habre, accused of overseeing the deaths of thousands, had a chaotic beginning Monday as security forces ushered the ex-leader into and then out of the Senegal courtroom amid protests by his supporters.(AP Photo/Sophiane Bengeloun)[/caption]
Habre's government was responsible for an estimated 40,000 deaths, according to a report published in May 1992 by a 10-member truth commission formed by Chad's current President Idriss Deby. The commission singled out Habre's political police force for using torture.
Jacqueline Moudeina, the lead counsel for the civil parties, made a plea in the name of more than 4,000 victims and urged the court to give them justice on Monday.
"The world watches you, it watches us. This process touches humanity … a humanity that was not afforded to these victims," she said in her opening statement.
Survivors of the abuse have been the main advocates for justice, working toward this trial for about 15 years. About 100 are expected to testify during hearings that are likely to last three months.
Clement Abaifouta, president of the main victims' association and a detainee who was forced to bury fellow prisoners, said his memories continue to haunt him.
"I hope for the condemnation of Habre because he now cannot escape," he said prior to the trial.
*Source AP/Yahoo
]]>