On October 31, Compaore stepped down and took refuge in Ivory Coast.
– 'A civilised nation' –
The military briefly took control of the landlocked nation of 17 million people before handing over to a transitional government, due to stay in place until presidential and legislative elections are held on October 11.
But Burkina Faso's temporary authorities have faced challenges from the Presidential Security Regiment (RSP), a 1,300-strong elite unit in the army once considered Compaore's right-hand men.
[caption id="attachment_19260" align="alignright" width="300"]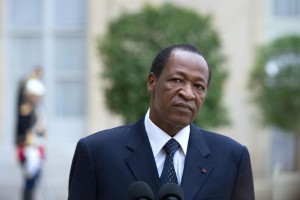 Blaise Compaore fled Burkina Faso last October after his plans to extend his 27-year rule sparked a popular uprising (AFP Photo/Bertrand Langlois)[/caption]
On Thursday, President Michel Kafando sought to end a months-long conflict between the RSP and Prime Minister Isaac Zida, saying he would keep the premier in place in the run up to the elections but remove him from his secondary role as defence minister.
In a broadcast on radio and television, the president said that "any upheaval at this level would only disturb proper preparations for elections with the major risk of extending delays" to the vote.
He further accused the army of disturbing the transition of power to an elected administration.
"It is not right that, because of conflicting interests, our national army — whose mission is to keep the peace in Burkina Faso — becomes the disturber of the peace in Burkina Faso," Kafando said.
The news came after a regional West African court on Monday annulled a new electoral law that sought to bar several political parties and individuals linked to Compaore from contesting the October 11 polls.
The Economic Community of West African States (ECOWAS) Community Court of Justice ruled the change constituted "a violation of the rights" to freely participate in elections.
Kafando said Burkina Faso, "as a civilised nation", would respect the decision.
Burkina's High Court, which was set up in 1995, has the jurisdiction to try the president and government officials for serious crimes committed while in power.
The nine-member court's current president, senior judge Elisabeth Bado Some, was elected in April.