Why Ahidjo Still Matters To Cameroon
-A question of logic, common sense, moral justice and Biya's legacy
By Hafis Rüefli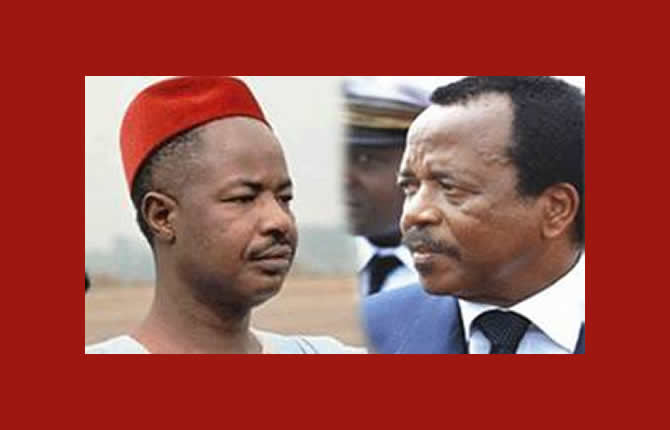 A few days ago, my attention was drawn to a story in one of the Cameroon newspapers on a 1991 Law published on the website of the Presidency on modalities to repatriate the remains of national figures who died abroad. The report cited historic figures like Roland Moumie of the UPC and Cameroon's first President Amadou Ahidjo whose remains have remained in Senegal since 1989 when he died.
As someone who has been consistent in calling for the return of the remains of President Ahidjo, I shared the curiosity of the Meteo newspaper in the timing of the publication of the Law today when it was effectively signed in 1991. Beyond the content of the law, the fact remains that Amadou Ahidjo still matters and bringing back his remains will be beneficial to President Paul Biya and it will be beneficial to Cameroon.
There is no one who will deny that at the base of what is modern day Cameroon today is the hard work put in by Amadou Ahidjo. He had limited education, he came from a modest background, he may sometimes have ruled with a heavy hand, but the fact remains that for 22 years that he was President, he put Cameroon on very solid rails to prosperity and development.
Cameroon under Ahidjo had unprecedented international respect. Ahidjo was regularly chosen by his African peers to present the position of the continent on vital international issues. Cameroon was able to produce two successive Secretary Generals for the Organization of African Unity.
Economically, the country was sound , the kind of pervasive corruption that has almost destroyed the country today was inexistent under Ahidjo. For the flaws that the former President may have had, people look back today and realize that the man was a patriot, the man meant well for Cameroon and he did his utmost best.
It is delusional and insane when in a bid to get favor from President Paul Biya, Ministers like Issa Tchiroma say Ahidjo belongs to the dust bean of Cameroon history. People like Mr Tchiroma and his likes should realize that President Ahidjo voluntarily handed over to Mr Biya. His choice might have settled on a different person if he wanted.
There is no country that does not have serious political misunderstandings from time to time. President Biya has shown that he is capable of engaging in reconciliation when the need arises. People seriously affected by the military coup of 1984 were rehabilitated and have served in very high positions in the country. It is the case with Mr Tchiroma, it is the case with others like Dakole Daissala, Hamadou Moustapha and even current Senate President Niat Njifenji.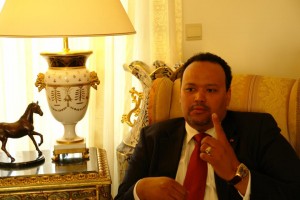 More than 25 years after he died in Senegal, and as the sun sets on the Biya years in power, one of his last dignifying acts will be to bring back the remains of President Ahidjo and give him the befitting National honors he deserves. By doing this President Biya will do himself and Cameroon a number of favors. As someone who has continuously preached unity and national integration, and considering that he inherited a nation united and looking forward in one direction, it will be a failure on President Biya's part to leave the remains of his predecessor in a foreign country before leaving power.
In past interviews in foreign news networks, President Biya has said bringing back the remains of Amadou Ahidjo is the prerogative of the family. Yet everyone knows that a leader who led the country for 25 years and voluntarily left power deserves much more than just a family burial. The nation as a whole needs to pay respects to him. It could be a moment of national healing, it could be that grand moment that brings Cameroonians together, it could provide an opportunity  for Cameroonians to do some soul searching and realize the importance of looking forward in one direction.
Contrary to what cynics and sycophants may think, President Biya himself seems to have been extending the olive branch to the family. President Ahidjo's son Badjika is a Roving Ambassador at the Presidency. His Daughter Aminatou Ahidjo was very active within the ranks of the ruling CPDM in the last Senatorial elections. While some may think the Biya government is using the two for cheap political gains, the fact remains that continuing to leave the remains of President Ahidjo in Senegal does Cameroon no honor, it does Mr Biya no honor.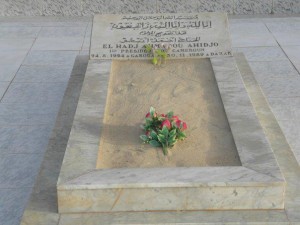 Questions are definitely bound to come to mind. What happens to his property that was confiscated by the government? What care and security guarantees are provided to his family in exile? These and more are some of the issues that will need to be addressed.
As one who has been active in advocating for the return of the remains of President Ahidjo, I still believe firmly that President Biya will come out bigger if acts speedily on this. At a time that the fabric of national unity is showing signs of frailty, with the Boko Haram attacks in the North, with the conflict in Central Africa affecting the Eastern region of the country, the President's legacy will be tainted if he leaves behind a very divided country.
Opinions may vary but as Biya gets closer and closer to the end of his long stay in power, one of his defining legacies may be what he does with the remains of first President Amadou Ahidjo. Bringing back his remains and giving him all the national honors he deserves is only logical and it is a call all Cameroonians should make until it happens. Only then will the country be truly at peace with itself.