Uganda joins Kenya, Rwanda in abolishing work permits for professionals
<![CDATA[
By Dicta Asiimwe* Uganda has finally joined Kenya and Rwanda in abolishing work permits for professionals following the signing of an agreement.
[caption id="attachment_18724" align="alignleft" width="275"]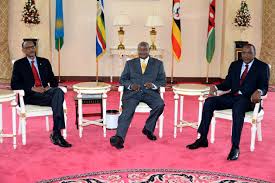 3 amigos: L-R: Rwanda's Paul Kagame, Uganda's Yoweri Museveni and Kenya's Uhuru Kenyatta.Photo credit Observer.UG[/caption] In a 2010 arrangement, Rwanda and Kenya agreed to waive work permit fees for either county's citizens, although the work permits themselves were still a requirement before one could secure employment in either country.
In October 2013, Uganda promised to follow suit but it was not until last week that Foreign Affairs Minister Henry Okello Oryem and his Kenyan and Rwandan counterparts Amina Mohammed and Louise Mushikiwabo respectively, signed the agreement to liberalise the movement of labour.
The three countries can thus partially meet the deadline set in the East African Community Common Market Protocol to liberalise the movement of labour before the end of 2015. Tanzania and Burundi still require work permits for which all non-nationals have to pay fees.
Martin Wandera, a labour markets consultant, said that the three countries could fully liberalise the movement of people because employment is a hot political issue that can cause unrest if citizens of one country flood another, looking for jobs.
Rwanda, Uganda and Kenya will also meet the EAC Common Market schedule for liberalisation of services — another agreement that was signed at the Kampala meeting by the foreign affairs ministers.
Research, law, architectural and real estate firms domiciled in one of the countries can now provide cross-border services in all three. Hotels, restaurants and travel agencies can also offer cross-border services in the three EAC countries.
The signing of the agreements means that work permits are no longer necessary for professionals interested in working in Kenya, Rwanda or Uganda.
After the signing Uganda's Minister of Internal Affairs Gen Aronda Nyakairima told The EastAfrican that professionals such as lawyers, will only need to register with national associations.
However, professionals like meteorologists, who have no associations, can get a job and start work immediately without meeting any obstacles.
If this agreement is implemented, it will provide relief for organisations that are keen on getting professionals from Rwanda and Uganda for employment in Kenya, which at the end of 2014 announced new requirements for getting work permits.
In the regulations, Kenya asked organisations to prove that there was a Kenyan understudy, before applying for and getting an expatriate's work permit. Proof under these regulations means providing an understudy's identity card, CV and copies of academic papers. *Source
East African
]]>