Thousands rally against I. Coast president
<![CDATA[
Abidjan (AFP) – Between 3,000 and 5,000 people demonstrated in Abidjan on Saturday against Ivorian President Alassane Ouattara, the sole declared candidate for an October presidential vote, police and organisers said.
"Free (Laurent) Gbagbo," chanted participants in a rally organised by the Ivorian opposition coalition, referring to the West African country's former president.
[caption id="attachment_18795" align="alignleft" width="300"]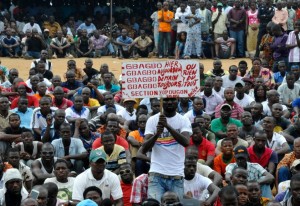 People attend the first rally of the opposition National Coalition for Change on June 20, 2015 in the Yopougon district of Abidjan, with a sign reading "Gbagbo yesterday, today, tomorrow, for ever", refering to former president Laurent Gbagbo (AFP Photo/Sia Kambou)[/caption]
After a period of conflict sparked by Gbagbo's refusal to accept electoral defeat in 2010, he was arrested in April 2011 and extradited later that year to the International Criminal Court in The Hague.
Gbagbo faces trial before the International Criminal Court for crimes against humanity. "This gathering is not yet enough to make Ouattara feel afraid," said Mamadou Koulibaly, ex-president of the National Assembly under Gbagbo and founder of the National Coalition for Change (NCN).
Established on May 15, the NCN gathers some 20 Ivorian politicians including ex-prime minister Charles Konan Banny.
"We are the new Ivory Coast," Banny said, calling on anti-Ouattara activists to "go sign up on electoral lists."
"In five years, Alassane Ouattara has done nothing," said the NCN's Bertin Konan Kouadio, a member of Ivory Coast's parliament.
While Ouattara's economic and social policies have been lauded by the international community, he has made little progress in driving reconciliation after thousands died in the conflict.
However, experts say the fragmented NCN would have little chance of defeating Ouattara at the polls.
*Source
AFP/Yahoo
]]>