Sudan's Bashir arrives in Khartoum from S.Africa
<![CDATA[[caption id="attachment_18701" align="alignleft" width="300"]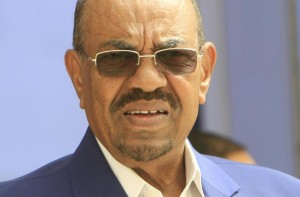 Sudanese President Omar al-Bashir has been in power since 1989 (AFP Photo/)[/caption]
Khartoum (AFP) – Sudanese President Omar al-Bashir arrived in Khartoum from Johannesburg Monday, an AFP correspondent said, after a court ordered him not to leave as it decided whether to arrest him over alleged war crimes.
Bashir, who is wanted by the International Criminal Court for alleged war crimes, crimes against humanity and genocide in the Darfur region, was returning from an African Union summit.
Dressed in his traditional white robes, a triumphant Bashir waved his trademark cane in the air as he stepped off the plane and shouted: "God is greatest!".
Walking down a red carpet leading from the aircraft, he was greeted by his ministers on the tarmac as well as a crowd of journalists and photographers.
Nearby, an area had been prepared for a news conference.
Bashir, 71, was indicted over his alleged role in the Darfur conflict.
African rebels in the western region launched an insurgency against Bashir's Arab-dominated government in 2003, complaining they were being marginalised.
The United Nations says 300,000 people have died in the conflict since, and another 2.5 million forced to flee their homes.
Khartoum says 10,000 people have been killed in the region since 2003.
*Source
AFP/Yahoo
]]>