Sacked Ugandan PM to challenge president for 2016 party ticket
<![CDATA[By Elias Biryabarema* [caption id="attachment_18698" align="alignleft" width="300"]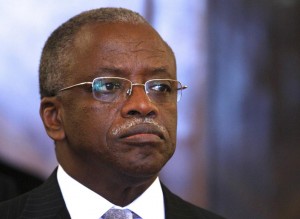 FILE – In this Thursday, March 31, 2011 file photo, Uganda's then Security Minister Amama Mbabazi meets with Russia's counterpart Sergey Lavrov in Moscow. Mbabazi, a lawyer and career politician who used to be the ruling party's secretary-general before he was ousted in a power struggle with President Yoweri Museveni, announced via a YouTube message Monday, June 15, 2015, that he will seek Uganda's presidency in elections scheduled for next year. (AP Photo/Alexander Zemlianichenko)[/caption]
KAMPALA (Reuters) – A sacked former prime minister is to challenge Yoweri Museveni's three decades in power in Uganda by seeking the ruling party nomination for next year's presidential election.
The 70-year-old president, in power since 1986, has scored landslide victories since multi-party politics was introduced in 2005, although opponents accused the authorities of vote rigging, a charge officials deny.
He is widely expected to seek and secure the National Resistance Movement's (NRM) nomination, but a challenge from Amama Mbabazi, who he sacked in September in what analysts saw as a power struggle, could trigger rifts in the party.
"Fellow Ugandans … I will be seeking your vote, first within my party the NRM as its flag bearer, and later on in the whole country for president in the 2016 presidential elections," Mbabazi said in a statement on Monday.
"The coming election is … about breathing new life into our system of government – a system that has become weak and inefficient," Mbabazi said.
He did not say if he would run independently if he failed to win the party nomination. Analysts say Mbabazi, previously NRM secretary-general, still has clout and his candidacy could divide party loyalties.
Museveni is hailed by many Ugandans for restoring order to a chaotic nation, which analysts say will help keep him office.
But a vigorous challenge could worry investors already concerned by the government increasing spending in the 2015/16 fiscal year, which begins next month, by 71 percent, citing the need to fund transport and energy infrastructure projects.
Some Western donors have criticised Museveni for hanging onto office, although they have also praised his work in stabilising aid-reliant Uganda, expanding the economy and sending troops to battle Islamist militants in Somalia.
Opponents say the rebel-turned-statesman runs an administration that is increasingly corrupt and which abuses the state and army to hold onto power. Western donors withheld aid last year over a law punishing gay sex with long prison terms that was later rejected by the constitutional court.
Mbabazi said his government would focus on rebuilding public institutions, tackling corruption, attracting foreign investment and creating jobs.
Last week Uganda's largest opposition party, Forum for Democratic Change, and four other major opposition parties announced a coalition that would field one candidate.
*Source
Reuters
]]>