Niger's former desert jewel becomes its 'Wild West'
By Joris Fioriti*
Agadez (Niger) (AFP) – Its stunning ancient mosque and atmospheric streets once earned Agadez a reputation as a jewel of the Sahara desert, thronging with tourists. These days, it's Niger's answer to the Wild West.
[caption id="attachment_18705" align="alignleft" width="300"]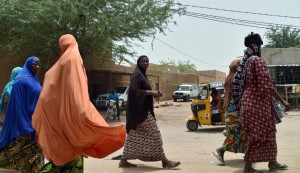 Women walk in a street in Agadez, northern Niger, on May 31, 2015 (AFP Photo/Issouf Sanogo)[/caption]
There was a time when tourists wandered happily around the ochre walls of northern Niger's main town, snapping the mosque's towering 15th century minaret, gazing out at the Sahara's vast expanse.
Now it's a hotbed of human trafficking, smuggling and crime. The holiday-makers have long packed up.
"We used to watch the full moon over the dunes. There was freedom," says former tour guide El-Hadj Mohamed Sale. "Now we're always afraid, even when we're home."
A white turban wrapped around his head and a photo album in his hand, he leafs through old snaps of the spots where he used to take foreign travellers: prehistoric rock paintings, the breathtaking Sahara. There are shots of him with Swiss tourists, French visitors, and "a Canadian friend".
"Sometimes there were hundreds of people in the desert," he remembers.
From the 1980s until 2000, thousands of foreigners came to soak up the history and beauty.
But the emergence of armed jihadists and rebellions by ethnic Tuaregs in the early 1990s and again in 2007-09 all but wiped out local tourism. The Tuaregs, making up about 10 percent of Niger's population, wanted more autonomy.
Those tensions have largely died down, though troublemakers can slip across from neighbouring Mali, with 24 soldiers killed in a Malian Islamist attack in Agadez in 2013 and seven foreign workers kidnapped in 2010 by a pro-Al-Qaeda group.
The foreigners were later freed but the kidnap "signalled the death of tourism in Niger," says Ibrahim Manzo Diallo, an Agadez media proprietor. "We've lost hope," he adds.
The last straw came after the 2011 ouster of Libyan leader Moamer Kadhafi as instability rippled across the vast arid region now peopled by criminal groups and jihadists.
Gone are the gushing travel articles, despite the UNESCO World Heritage listing that Agadez won in 2013.
A return to the good old days seems impossible.
– Stolen goods, cocaine and jihadists –
"All kinds of trafficking, gold prospecting, stolen goods from Libya, illegal immigration, cocaine — all of it centres on Agadez," says Rhissa Ag Boula, an Agadez native who is an advisor to President Mahamadou Issoufou.
Hundreds of years ago the town was a key crossroads on desert caravan routes
Now the last major transit hub before Libya and Europe, it is best known for migrant "ghettoes", criminals of all varieties, and general insecurity. In recent years its population has exploded to over 120,000.
The migrants are mainly from West Africa — Senegal, Gambia or Mali. Some are hoping to find work in Libya, others to set sail from there to Europe — a perilous journey that has seen some 1,800 migrants die at sea this year.
At nightfall, cars packed with migrants roar at top speed around the town's outskirts, quickly loading and unloading their human cargo.
Agadez is "a point of transit", acknowledges Mayor Rhissa Feltou, but he denies it's a "trafficking hub" and blames the media for what he says is a distorted view of the situation.
In defence of the migrants, he says they "make the local economy work — they live with local residents, they buy things to eat, they rent houses."
But not all agree with the mayor.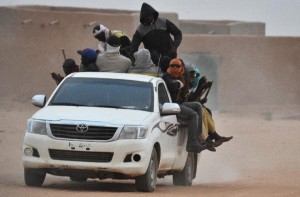 "Our infrastructure is saturated. There is no more water, there's no more electricity," complains Salifou Manzo, a prominent civil society member. "Residents are ashamed."
In total, officials expect the arrival of 150,000 migrants this year.
"Agadez was a good town, where everyone came. But it's become a dumping ground for all the traffickers, all the criminals," added Manzo.
Brand new cars, stolen in Libya, are a common sight.
Stalls selling wheelbarrows, shovels and metal detectors have also sprung up, catering to the swarm of prospectors who have descended on Agadez in the hunt for gold — many of them heading to the the desert site of Djado, 1,000 kilometres (620 miles) to the northeast.
El-Hadj Mohamed Sale, the tour guide with such nostalgia for the "old" Agadez, has joined the local gold rush and is among those heading out of town with metal detectors.
"At the moment we're doing odd jobs," he says. "You've got to keep your head above the water."
*Source
AFP/Yahoo
]]>