Mali, Senegal prepare for U20 World Cup semifinals
By MATT RICHENS*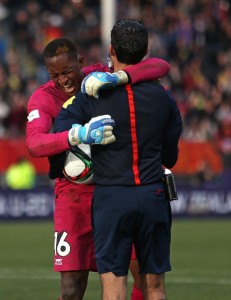 CHRISTCHURCH, New Zealand (AP) — Mali may have lost to Serbia in the group stage of the FIFA Under-20 World Cup, but the African team has no fear of a rematch in the semifinals.
Mali and Serbia meet Wednesday in Auckland after both won thrilling penalty shootouts to advance.
Senegal advanced to the semifinals in its first U20 World Cup and will play Brazil, giving Africa two chances to win title. Two African teams who won't be in the running are continental powers Nigeria and Ghana, who were eliminated in the round of 16.
Serbia beat Mali 2-0 in the group stage of the 24-team tournament, but Mali believes it's a much better side now as it rides a wave of confidence after downing Ghana and title favorite Germany.
Senegal qualified for the Under-20 World Cup for the first time this year and was not expected to progress beyond the group stage.
Coach Joseph Koto says the expectations of fans at home were not high, but that has changed since Senegal qualified behind Portugal and Colombia in Group C, then beat Ukraine in the round of 16 and Uzbekistan in Sunday's quarterfinals.
"I can tell you one thing, (Senegal's capital city) Dakar isn't sleeping right now," Koto said. "At first everyone expected us to get smashed, 5-0, 6-0, 7-0, at every match we played but the team actually progressed through the rounds and now everyone watches the matches."
Mali celebrated its win over Germany in Christchurch like it had already won the final, so keeping emotions in check will be tough for team management if confidence isn't.
Speaking through a translator, Mali coach Fanyeri Diarra spoke of a team full of belief and ready to keep punching above its weight.
"When we first arrived we were at a lower level, but we started to believe," Diarra said. "Our confidence has been rising and with that confidence, taking it step by step, the results have been getting better."
Mali's development has been obvious. It emerged from a mediocre group with a win over a nine-man Mexico, a 1-1 draw with Uruguay and the loss to Serbia before picking up its two big scalps.
It goes into Wednesday's match as underdog, but that holds no fear for the team that finished third in 1999.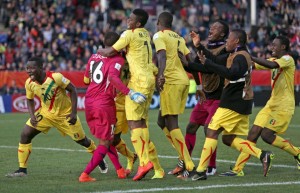 "We're not scared of anyone, there's no particular team we want to avoid," Diarra said. "At this level we can be competitive with anyone.
"An example is we weren't favorites here (against Germany), but we've done it," he added. "And this level, with the kids playing, there's always going to be upsets."
After containing a German side that amassed 16 goals in its first four matches, scoring one themselves, then holding their nerve through a penalty shootout, the confidence may not be misplaced.
Serbia too will be riding a high. After topping Group D, it beat European rival Hungary thanks to an injury time equalizer, then a late extra-time winner before outlasting the United States in a thrilling shootout.
This is the team's debut at the Under-20 World Cup as Serbia, but it won the tournament in 1987 as part of Yugoslavia.
*Source AP/Yahoo