AU head Mugabe says international court unwelcome in Africa
<![CDATA[By CHRISTOPHER TORCHIA* [caption id="attachment_18736" align="alignleft" width="620"]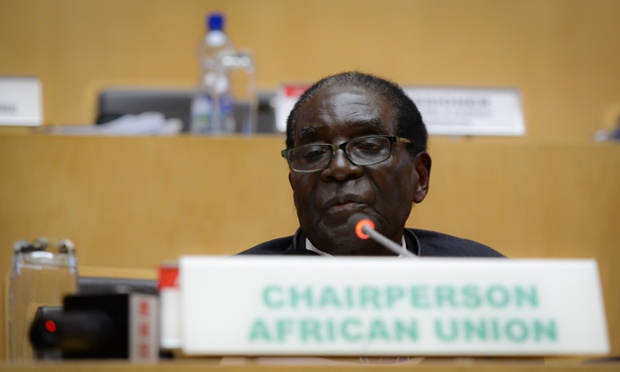 Mandatory Credit: Photo by Xinhua News Agency/REX (4403714c)
New rotating Chairperson of the African Union (AU) and Zimbabwean President Robert Mugabe
24th AU Summit, Addis Ababa, Ethiopia – 31 Jan 2015
UN Secretary-General Ban Ki-moon on Saturday welcomed the decision by the AU to deploy up to 7,500 troops to battle Boko Haram, a movement that has wreaked havoc in west Africa over the past years.[/caption]
JOHANNESBURG (AP) — Zimbabwean leader and African Union chairman Robert Mugabe on Tuesday harshly criticized the International Criminal Court after Sudan's president dodged an international arrest order by leaving early from a meeting of the continent's leaders in South Africa, a news agency reported.
Sudanese President Omar al-Bashir arrived in Khartoum, Sudan, on Monday from South Africa, where a court instructed that he be arrested, but after his plane had left with him aboard. Al-Bashir is wanted by the International Criminal Court for war crimes allegations linked to the conflict in Sudan's Darfur region.
The African News Agency, which is based in South Africa, quoted Mugabe as saying at the late-night close of an African Union summit in Johannesburg that the International Criminal Court is not wanted in Africa.
"This is not the headquarters of the ICC; we don't want it in this region at all," said Mugabe, who is chairing the 54-member African Union for one year.
South Africa is a signatory to the statute that set up the international court. But some African leaders say the court has unfairly targeted African heads of state and the African Union said delegates to the summit in Johannesburg had immunity.
According to Mugabe, South African President Jacob Zuma said "he would not allow" police to arrest al-Bashir, the African News Agency reported.
A spokesman for Zuma's office referred questions about al-Bashir to government spokeswoman Phumla Williams. Williams was not immediately available on Tuesday, a national holiday in South Africa.
Nick Kaufman, a lawyer representing several victims in the Darfur case at the ICC, called on the court's prosecutor Tuesday to ask judges for a formal "finding of non-compliance" by South Africa for failing to arrest al-Bashir and to have the matter reported to the United Nations Security Council.
*Source AP/Yahoo
]]>