Africa's Richest Man Eyes Malawi As Investment Destination
<![CDATA[By Nfonobong Nsehe* Aliko Dangote, Africa's richest man, is looking to invest in Malawi, a small, impoverished, landlocked country in Southern Africa.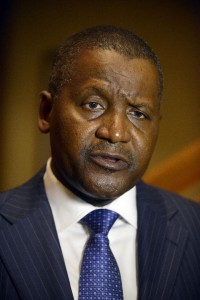 Malawi's Minister of Industry and Trade, Joseph Mwanamvekha, told Journalists in Lilongwe on Wednesday that the Nigerian billionaire who has investments in cement, sugar and flour, will be visiting Lilongwe, the country's capital, towards the end of June to hold private talks with President Peter Mutharika to discuss avenues for a potential investment. According to Malawian newspaper, Nyasa Times, Dangote will also attend the first ever Malawi Investment Forum scheduled for the 29th to 30th June in Lilongwe. "His visit to Malawi will inspire both private and public sector on how he has succeeded in his businesses," Mwanamvekha said. According to the World Bank, Malawi is one of the poorest countries in the world – with 2.26 Gross Domestic Product per capital (GDP). More than half of Malawi's population still live below the poverty line – earning less than $1 per day. The country depends largely on aid from foreign donors and earnings from its Tobacco exports.
Dangote is aggressively expanding his business empire across several African countries. He recently launched a $500 million cement plant in Ethiopia, and is building other plants in Kenya, Niger and Congo, among other places. If he invests in Malawi, it would be his third investment in the South African region. He already has a substantial stake in South African cement manufacturer Sephaku Cement and he is building a cement plant in Zambia.
Dangote, 58, is worth $17.8 billion according to FORBES' real time wealth estimates.
*Source Forbes
]]>