Zimbabwe Proposes Compulsory Chinese Lessons, Stirring Controversy
<![CDATA[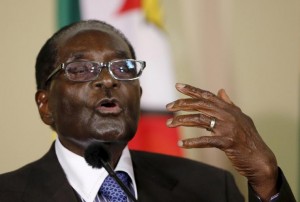 Zimbabwe's President Robert Mugabe speaks during a press briefing on April 8, 2015. A proposal from Zimbabwe's government to make Chinese compulsory in state schools has sparked debate. Reuters/Siphiwe Sibeko[/caption]
The Zimbabwe government has proposed adding the Chinese language to its curriculum in state-run schools. While many support the idea, which could give students better job prospects in a country that has long had a connection to China, critics say it's not worth the resources when teachers are already had to come by and traditional languages are in jeopardy.
A state-owned media outlet reported the proposed change earlier this month. Among other changes to the curriculum, officials announced that Chinese, along with French, Swahili and Portuguese (the language of neighboring Mozambique), would be a compulsory subject in all state-run schools.
"The importance of Chinese language skills can be understood on the background of the bilateral relations the two countries have, which has culminated in a number of business ventures," University of Zimbabwe linguistics professor Laston Mukaro said.
There are already Chinese classes in elementary, secondary and tertiary schools around the country, mainly using teachers from the Confucius Institute at the University of Zimbabwe, Mukaro said. Firstopened in 2007, it's one of 400 institutes around the world that teach Chinese language and culture.
China has been an important economic ally for Zimbabwe, especially after Western trade sanctions on allegations of human rights violations by the regime of president Robert Mugabe, who has led the country since 1980. These were first imposed in 2003, the same year Zimbabwe's government launched its "Look East" policy that gave priority to investors from China. Trade with China has boosted the agricultural sector: for example, roughly 40 percent of Zimbabwe's tobacco exports now go to China,according to Zimbabwe government data cited by Reuters. Bilateral trade between China and Zimbabwe topped $1 billion in 2013.
As a result, Mukaro said, both Zimbabwean and Chinese companies in the country are in desperate need of translation services. This means Chinese speakers can earn substantially more than ordinary employees.
However, not everyone is as excited about the Chinese influence in the country. Locals working for Chinese companies have complained of exploitative low wages and even abuse.
A spokesperson for the National Mine Workers' Union of Zimbabwe told the Mail & Guardiannewspaper that workers at Chinese-run mines worked long hours in unsafe conditions. Another worker told local media that working for Chinese companies was "hell on earth."
Sergeant Chevo, registrar at the University of Zimbabwe, told IBTimes in an email that Chinese, like English, was just another "evil language used to colonise us and brainwash us."
Others have come out against the plan for compulsory Chinese in schools due to a lack of resources. The average teacher in Zimbabwe earns US $400 per month, according to the Harare-based Financial Gazette, while teachers in neighboring South Africa earns more than twice that, which means many of the country's qualified teachers are drawn there. The education minister recently told reporters that that9,000 teachers needed to go back to school to "re-qualify" themselves.
Another concern for Zimbabweans is losing traditional language, history and culture. English, Shona and Ndebele are the official languages of Zimbabwe, with an additional 13 local languages used throughout the country.
"Traditionally, people have been learning English, yes, Portuguese, yes, there have been some private institutions that speak Portuguese. And I know that Chinese has also been introduced at the university level. But to make it compulsory, I think it's unfair. Let people learn those languages out of their own volition," Earnest Mudzengi, director of the Zimbabwe Media Centre and a part-time teacher at Zimbabwe Open University told RFI. "At the end of the day, we have people who know a lot about the history of China, the history of England, the history of America, but there is very little knowledge of the history of their own country."
*Source IBM
]]>