"With a billion people the African continent, is home to just three percent of the world's aviation business"
<![CDATA[-Fastjet's Ed Winter introduces the airline making first time air travel available to thousands of  Africans. By Ajong Mbapndah L $20 for domestic flights, and from $50 for international flights is the deal that Fastjet is offering Africans for air travel. At the helm of the company is Ed Winter who has over forty years in the aviation business where he started off as a pilot. Fastjet which recently raised USD 75 Million for expansion has made air travel accessible to people who could not afford in the past. Listed in the London Stock Exchange, Ed Winter says the company partners locally in each country it operates in to establish businesses that are majority owned by citizens there. May we get a background on Fastjet and its business operations in Africa? [caption id="attachment_17886" align="alignleft" width="300"]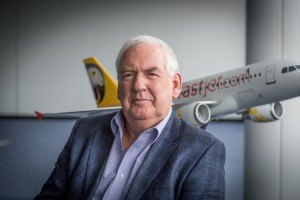 Ed Winter[/caption] Fastjet, the low-cost pan-African airline, commenced flight operations on 29 November 2012, flying passengers from Dar es Salaam to Kilimanjaro and Mwanza in Tanzania on its A319 aircraft, which can carry up to 156 passengers. Since launch, Fastjet has expanded its Tanzanian network to fly from Dar es Salaam to Mbeya in Tanzania, and to Johannesburg in South Africa, Lusaka in Zambia, Harare in Zimbabwe and Entebbe in Uganda. The airline also recently announced flights between Kilimanjaro and Mwanza, and Kilimanjaro and Entebbe in Uganda. Fastjet is listed on the London Stock Exchange, and partners locally in each country it operates to establish businesses that are majority owned by citizens there. Fastjet Tanzania is majority-owned by Tanzanian citizens and employs more than 170 Tanzanians directly and many more indirectly. fastjet Tanzania has achieved over 90% on time punctuality since start up. Tickets are sold through a multi-channel distribution network. Passengers can book direct online or via a mobile device, through a 24/7 call center or by visiting a local Fastjet office. Fastjet also give passengers the option to pay for extras, such as pre-booked seats, pre-booked and additional luggage, check in extra freight up to 80kg, and SmartClass, a premium corporate fare allowing passengers to pre-book seats, an increased baggage allowance of 32kg and the ability to change flight dates as many times as required with no additional charges. The results of a customer survey conducted by fastjet in 2014 revealed that 35% of its passengers were first-time flyers. Seventeen percent of passengers flew more than 10 times in that year, while 19% flew between six and ten times. Ninety-seven percent of respondents said that they valued fastjet's safety and reliability, with 96% valuing the easy online booking and payment system. Ninety-five percent said that they loved the airline's competitive prices, with 94% saying that it offered good value for money. Overall, 95% of passengers said that they would fly with fastjet again. fastjet was also named the fifth cheapest low-cost carrier in the world by flight comparison site, WhichAirline.com in 2014. Fastjet prides itself as Africa's low cost airline, air travel is generally expensive, just how low are your rates compared to what other airlines offer? There are more than one billion people on the African continent, which is home to just three percent of the world's aviation business, and the continent remains in desperate need of improved and affordable aviation connectivity. Fastjet charges from as little as $20 for domestic flights, and from $50 for international flights. The cheapest fares can be booked on fastjet's website, and the further in advance the flight is booked, the cheaper it is likely to be. We have adopted the same luggage model as other low-cost airlines worldwide, giving passengers the power to control how much they spend. Each item of checked luggage is charged for, including a freight option where passengers can travel with up to 80kg of freight luggage. This means that passengers who are traveling with little or no luggage are not subsidizing passengers who are traveling with a lot of luggage. Fastjet has made air travel accessible to people who could not afford to travel by air before – 35% of the airline's passengers are flying for the first time. Air travel is safer and quicker than traveling by road, which was the primary means of transport for many people between the cities in our network before. The airline operates to international standards of safety and reliability. This means that passengers are now comfortable to book and pay for their flights in advance, because they are reassured that the flights will take off. Previously, passengers arrived at the airport on the day of intended departure, carrying cash, paying for flights only once they were sure that the flight would actually happen. We believe that competition is good for consumers, and it has always been our intent to expand the aviation market on the continent, rather than take customers away from other airlines. Competition expands the choices available to consumers, and it brings air fares down. How much of Africa does fastjet cover and are there plans to expand operations beyond Africa? [caption id="attachment_17887" align="alignright" width="300"]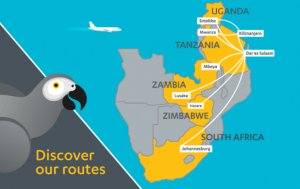 Fastjet route map[/caption] The current fastjet schedule is flights from Dar es Salaam to Mwanza, Mbeya and Kilimanjaro in Tanzania, as well as from Dar es Salaam to Johannesburg, Harare, Lusaka and Entebbe. It also flies between Kilimanjaro and Mwanza, and between Kilimanjaro and Entebbe. Fastjet continues to expand across the African continent with the airline announcing that its new operation – fastjet Zambia – has received an Air Service Permit (ASP) from the authorities in that country. fast jet Zambia received confirmation from the Zambian Civil Aviation Authority that it has successfully completed the critical 'Phase 1' of its application for an Air Operating Certificate (AOC). An AOC will allow Fastjet Zambia to source aircraft and pilots and bring low fares and reliable services to Zambian people on domestic routes between Lusaka, Ndola and Livingstone and on international routes to South Africa, Zimbabwe, Malawi and Kenya. In March 2015, Fastjet announced that, as part of its plans to grow its footprint in Sub- Saharan Africa, it has received an ASP from the Ministry of Transport and Infrastructural Development of the Government of Zimbabwe responsible for administering the Civil Aviation Authority of Zimbabwe (CAAZ). This is a significant step towards the airline obtaining an AOC and its plans to launch Fast jet Zimbabwe in due course. We are constantly engaging with governments and other stakeholders on the continent in order to expand the low-cost aviation model to other countries where the aviation sector is hobbled by monopolistic practices. It was recently announced that fastjet raised USD 75 million for expansion, may we know how this was done and how the planned expansion will done? The funds were raised by placing five million new ordinary shares at a price of one penny per share to new and existing institutional shareholders, other investors, and fastjet management. The funds raised will be used for expansion working capital for the launch and growth of operations in Kenya, South Africa, Uganda, Zambia and Zimbabwe. Funds in excess of that will be used to commence an aircraft acquisition programme of used Airbus A319 aircraft. What are some of the challenges that the company has faced in the course of doing business in Africa?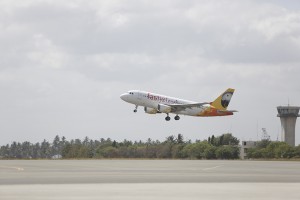 Many state-subsidized airlines maintain a monopoly control over routes on the continent, which means that fares remain expensive and beyond the reach of ordinary citizens. These airlines stay in business because they are subsidized by government, even though the continually make financial losses. High taxes add to the costs of air travel, as do fuel prices, which are higher in Africa than elsewhere in the world, also due to taxation. While fastjet have engaged very positively with many governments on the continent, it remains true that many are determined to protect existing airlines to the detriment of the aviation sector as a whole. How do you appraise the current state of airline business in Africa and what could be done at the level of governments to boast growth in the sector? Fastjet works closely with the governments of the countries to help stimulate local economies through job creation, tax collection and the simple solution of making it easier and quicker for citizens to do business. We stimulate competition that is intended to grow the number of people that can spend their money in the aviation sector, which in turn makes significant contributions to economies. We encourage governments on the continent to consider the advantages of liberalizing the aviation sector, as this can only be to the benefit of their people. Any last word and what should customers expect from fastjet in the years ahead? Fastjet continues to engage with governments on the continent to realize our vision of being a truly pan-African low-cost airline. We are working on expanding our network of flights from Dar es Salaam, as well as establishing local Fastjet businesses in Zambia, Zimbabwe, Kenya and South Africa, over time. ]]>