Nairobi's Matatu Culture Makes it To Hollywood in Upcoming Netflix Series
<![CDATA[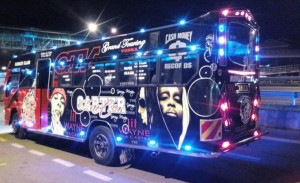 From Tomb Raider being shot on Kenyan soil to Lupita Winning an Oscar to the ever constant Edi Gathegi, Kenyan talent and abilities can be ranked up their with the best if the potential is factored in. it so happens that Kenyan talent is only recognized after one makes it big anywhere else but not here In an upcoming series, Sense8, that will air on Netflix, a number of Kenyan talents have been. Not only that but actual shooting was also done locally, at least some of it. The definitive matatu culture is featured briefly in the trailer albeit in an understated manner. The synopsis:
Sense8 will tell the story of eight strangers from different cultures and parts of the world, who, in the aftermath of a tragic death, suddenly find themselves mentally and emotionally connected – an evolutionary leap of technological origin. While trying to figure why this happened and what it means for the future of mankind, a mysterious and powerful man named Jonas will try to bring the eight together, while another stranger called Mr. Whispers and his organization will attempt to hunt them down to capture or assassinate them. Each episode will focus on one character and their story.
The series will be available on Netflix by Jun 5th and of the Kenyan faces on it are, Biko Nyongesa, Chichi Seii who'll reportedly play Capheus' mother, Lwanda Jawar as Githu, the leader of Superpower, a vigilante gang, Paul Ogola as Jela, Peter King Mwania as a crime lord named Silas Kabaka.
*Source
Naije.com
https://youtu.be/iKpKAlbJ7BQ]]>