Liberia celebrates end of Ebola
<![CDATA[[caption id="attachment_18092" align="alignleft" width="300"]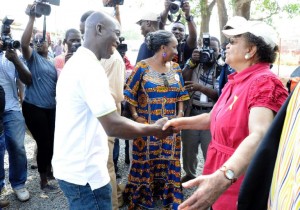 Liberia's President Ellen Sirleaf Johnson (R) shakes hands with Jerry Brown, a medical director and surgeon who helped lead the fight aganst Ebola, on May 9, 2015 in Monrovia (AFP Photo/Zoom Dosso)[/caption] Monrovia (AFP) – Thousands of Liberians gathered Monday to celebrate the end of Ebola after the country was officially given the all-clear from an epidemic that has killed more than 4,700 people.
The government declared a public holiday to allow pupils and workers take part in a festival in the capital Monrovia featuring traditional dance and contemporary music.
Students sang joyfully and waved placards with slogans including "bye bye Ebola", "we are the winner" and "we will always overcome".
The ceremony began on a sombre note however with testimonials from health workers and other staff in the country's Ebola treatment units (ETUs), as well as survivors and body disposal team members.
"When I contracted the Ebola virus I was carried to the ETU, where all those who were in the centre with me died. Only I survived," said Tee Love Lorseh.
"While I was there my father and my mother died from the disease."
The WHO said in a statement on Saturday that 42 days had passed since the last person confirmed with the virus in Liberia was buried.
That period is double the number of days the virus requires to incubate, and WHO hailed its eradication as an enormous development in the crisis.
The agency warned however that because Ebola outbreaks were continuing in neighbouring Guinea and Sierra Leone, the risk remained high that infected people could re-enter the country.
Dignitaries at Monday's ceremony included Togolese President Faure Gnassingbe, who congratulated the Liberian people for their "wonderful job".
"Ebola is an ally of silence and slow reaction. This should be a lesson for us in Africa. Quick reaction is needed in fighting a virus," he said.
[caption id="attachment_18093" align="alignright" width="300"]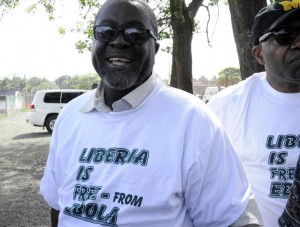 Liberian Information Minister Lewis Brown (L) wears a t-shirt reading "Liberia is free from Ebola" during the World Health Organization announcement of the end of Ebola in Liberia, on May 9, 2015 in Monrovia (AFP Photo/Zoom Dosso)[/caption]
Liberian lawmaker Saah Joseph, recognised as a key figure in the country's Ebola response and nicknamed "The Hero" in local media, recalled the dark days of the epidemic.
"One day we carried more than 300 bodies to Redemption Hospital. We had to remove some to the Island Clinic. When we got there, we had more bodies. It was difficult for me, frustrating, but we had to do the job," he said.
The WHO's "Ebola-free" declaration was officially handed by the agency's country representative Alex Gasasira to Liberian President Ellen Johnson Sirleaf, who thanked citizens for eradicating the virus.
"My special thanks go to the security apparatus. They were heroes," she said.
*Source
AFP/Yahoo
]]>