Ivory Coast opposition picks presidential candidate
<![CDATA[[caption id="attachment_18309" align="alignleft" width="300"]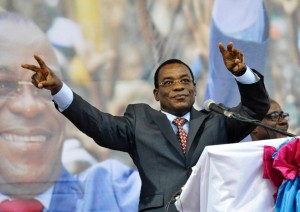 Head of the Ivorian Popular Front opposition party Pascal Affi N'guessan delivers a speech on May 21, 2015 in Abidjan (AFP Photo/Sia Kambou)[/caption]
Abidjan (AFP) – Ivory Coast's main opposition, the Ivorian Popular Front of ex-president Laurent Gbagbo, on Friday chose party chief Pascal Affi N'Guessan as its candidate in presidential elections in October.
"Today, duty calls me. I can't evade it which is why I say yes, I agree to be the candidate of the Ivorian Popular Front for the October 2015 presidential election," N'Guessan told a congress gathering of the deeply divided party.
N'Guessan, who won a standing ovation for several minutes, will be up against President Alassane Ouattara in the vote.
"My first duty is to continue the fight for Laurent Gbagbo to find freedom" but "also to give hope to Ivory Coast," N'Guessan said, visibly moved.
Gbagbo, Ivorian president from 2000 to 2011, is currently awaiting trial at the International Criminal Court for crimes against humanity.
Gbagbo's refusal to concede defeat to Ouattara after elections in 2010 sparked a bloody five-month standoff in which the UN estimates about 3,000 people died.
Held in The Hague since his transfer to the ICC's detention unit in late 2011, Gbagbo will go on trial in November for his alleged role in the violence.
The selection of N'Guessan comes amid a serious crisis in the Ivorian Popular Front that is threatening its unity.
One side backs N'Guessan as presidential candidate, but the other objects to this and wants the release of Gbagbo before agreeing to any elections.
*Source
AFP/Yahoo
]]>