Emmanuel Adebayor: Striker reveals family issues on Facebook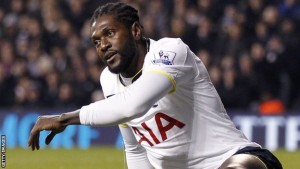 Tottenham striker Emmanuel Adebayor has publicly laid bare some of the personal issues that have disrupted his career.
The 31-year-old Togo international was granted personal leave by his club last December and has struggled this season.
On Tuesday he posted a lengthy message on his Facebook page, giving an insight into the cause of what he described in March as his "dark moments".
In the post Adebayor revealed the financial burden of supporting his family as well as ongoing conflicts.
However, he urged his readers to "keep in mind that none of this is about money" and said the "main purpose is not to expose my family members. I just want other African families to learn from this".
He wrote: "I have kept these stories for a long time but I think today it is worth sharing some of them with you. It's true that family matters should be solved internally and not in public but I am doing this so that hopefully all families can learn from what happened in mine."
Adebayor's complicated family life led to Spurs giving him time off. After returning to London he almost left the club on transfer deadline day in January to join West Ham.
His open message on social media appears to be an attempt to answer some of the questions about why he was allowed to return home to Togo.
In 17 appearances for the London club this season, Adebayor has scored only twice.
*Source BBC