Ebola-free Liberia can stage internationals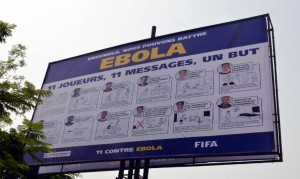 Johannesburg (AFP) – Liberia can stage international matches again after being declared free of the Ebola virus, the Confederation of African Football (CAF) announced Friday.
CAF took the decision after consulting the World Health Organization (WHO), who this month declared Liberia Ebola free.
A ban on hosting games was introduced last July and the Liberians had to play a recent home Olympic Games qualifier against Ghana in that country.
Fellow west African states Guinea and Sierra Leone — along with Liberia the hardest hit by the deadly epidemic — remain barred from hosting international fixtures.
Morocco have agreed to stage the home qualifiers of Guinea in the 2017 Africa Cup of Nations, but the plans of Sierra Leone are unknown.
The Ebola epidemic has claimed more than 11,000 lives since its outbreak two years ago in Guinea, according to the WHO.
*Source AFP/Yahoo