East Africa: Kenya's Tech Scene Ripe for Exporting to the World Says iHub Founder
<![CDATA[[caption id="attachment_18042" align="alignleft" width="285"]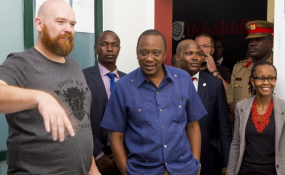 Photo: Akilah Net
Erik Hersman, far left, with President Uhuru Kenyatta.[/caption] Nairobi — Erik Hersman is a man of many identities: founder, father, facilitator, partner, CEO, director, and instigator, to name just a few. However, he is best known for founding iHub, the first and biggest tech hub in Africa. The Nairobi-based hub has just celebrated five years. It serves as a central locus for the region's tech community, bringing together everyone from entrepreneurs and hackers to investors and advisors. In spite of iHub's expansion into research, incubation, and testing, Hersman maintains that the organization's core focus remains building a tech community. In addition to iHub, Hersman co-founded the mobile app Ushahidi, which allows users to share breaking news via SMS. He's also the CEO of BRCK, which produces a durable backup generator for the Internet, and a general partner in the Savannah Fund. Did we mention he's a father of three and a prolific blogger to boot? Akilah Net's Ken Macharia caught up with Hersman during a rare lull in his workday. In a wide-ranging interview, Hersman shares everything from his plans for iHub to his latest project. Excerpts follow. How did the idea to build the iHub come about? The idea for the iHub was a seed that was first planted back in 2008. We have this annual tech event, which we call Barcamp Nairobi. It was after one of these events that a few of us thought, "Why is it that we see each other once or twice a year?" In 2009, the Ushahidi founders got together and thought we could raise the money to set up the space for a tech community. Three months later, we reached out to the small community for help with the flooring, logo design, and network cabling of the space. From the beginning, we made it clear that we were building a community, and for the last five years, the community has grown from strength to strength. How has iHub contributed to the growth of innovation hubs in Africa? The iHub was the first one, and we are the largest, not just in Kenya but on the continent of Africa. But, what is more important, is that we know our part of the ecosystem — and that is community mobilization, while other guys focus on creatives and incubation. We do have an incubator, a research arm, and user-experience testing, but community remains our focus. The iHub helps create a bigger model for governments, media organizations, investors, and companies to access talent and find each other. So we still need incubators; we still need research labs at universities and creative spaces for artists. We don't want to replace them; we want to augment them. What has been the sustainability model you have adopted at the iHub? Every tech hub on the continent has to deal with this all the time. One of the things we decided from the outset is that we were not going to charge for membership. We knew we had to come up with the money elsewhere after the initial funding by Ushahidi.
In year two, we started m:lab and our research arm, and I have to say since 2012, we have not taken any grant funding. I think hubs can get grant funding, but you can also create a revenue channel if you add value to the ecosystem. Like every business, you have to think about what works for you and experiment with different models.
Is there a distinct tech culture in Kenya that can be exported?
There are tech entrepreneurs here who are exporting their products and services not just in Africa but to the rest of the world. We have people at Craft Silicon, PesaPal and Cellulant who have been doing this for a number of years. Kenya is one of those places that is blessed with people who are really entrepreneurial. Tie the entrepreneurial spirit with the right technology and you get something that has very few physical barriers, where we can easily export our stuff around the world because of the Internet.
What challenges have you encountered with iHub?
Some of the hardest moments were when we made investment bets, like the iHub space. When we first started, I was like, "I hope we get enough people to fill this place." Two months later, we realized we had too many members to fit here. Expanding revenue was also a point of challenge for us. One of the hardest moments is seeing someone from the community pass on — it's always hard on the community.
What are your proudest moments at the iHub?
One of my proudest things is seeing startups that began here with two people, went through an incubation process, and are now 30- or 40-person companies. At the iHub, we have grown to 16,000 members, and 150 plus startups have come through. Also, seeing a sea of 3,500 people gathered for a five-year anniversary event organized by the community was truly amazing.
What's next for iHub in the coming five years?
We are going to continue building the community and adding value for members. But one of the biggest initiatives will be Gearbox. We hosted the president here last week, and he is very interested in it. The Gearbox is this new space for the hardware part of the equation — so a software-meets-engineering sort of space. We are opening a place that will be 20,000 square feet. It's going to have all the machines for people to build their next tool or product. If we can catalyze the hardware space like we did for software, that's even bigger.
* Source Allafrica Ken Macharia is a journalist and editor based in Nairobi with interests in technology and entrepreneurship. He is passionate about mentorship and developing young talent. Twitter: @kenmacharia
]]>