Burundi president fires defence chief after coup attempt
<![CDATA[By Goran Tomasevic and Njuwa Maina* [caption id="attachment_18210" align="alignleft" width="300"]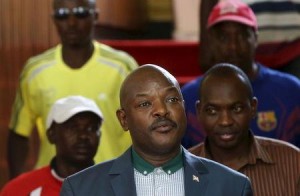 Burundi's President Pierre Nkurunziza (C) walks before a news conference in Bujumbura, Burundi, May 17, 2015. REUTERS/Goran Tomasevic[/caption]
BUJUMBURA (Reuters) – Embattled Burundi President Pierre Nkurunziza sacked his defence and foreign ministers on Monday, five days after surviving an attempted coup by generals opposed to his bid for a third term in office.
In a decree seen by Reuters, Nkurunziza declined to give any reasons for the dismissals. "President does not have to explain," one of his spokesmen said in a follow-up text message. "Constitution gives him powers to (do) so."
The sackings are the first signs of ructions inside Nkurunziza's administration after the attempted coup, which intensified fears a political crisis may be spiralling out of control and pitching Africa's Great Lakes region towards another bout of ethnic conflict.
Some 300,000 people died in a Burundian civil war that ended in 2005. Neighbouring Rwanda, which shares a similar ethnic mix between a Hutu majority and Tutsi minority, is still recovering from a 1994 genocide in which 800,000 people, mostly Tutsis and moderate Hutus, were killed.
So far, however, there are no signs of supporters and opponents of Nkurunziza being divided along ethnic lines.
The constitution and a peace deal that ended the civil war both specify a two-term presidential limit. Nkurunziza is seeking a third term anyway, relying on a court ruling that his first term does not count because he was appointed by parliament, not elected.
Although surviving the coup may have strengthened his position in the short term, the appointment of his main spokesman's brother as foreign minister suggests Nkurunziza may be running out of confidantes.
Many of those behind the May 14 coup attempt are in custody. However, its main leader, former intelligence chief Godefroid Niyombare, who was sacked in February, remains at large.
"WE WANT PEACE"
As 51-year-old Nkurunziza, a sports lecturer credited with building national unity after the war, unveiled his purge, groups of protesters resumed their daily demonstrations in the capital for the first time since the attempted army takeover.
The atmosphere was tense as soldiers deployed in the capital, Bujumbura, where more than 20 people were killed in almost three weeks of unrest before the failed putsch. "This protest will not end until he himself says that he is not vying for a third term," protester Gentil Shokomba told Reuters. "We want peace in Burundi, and we are tired of war."
Residents reported heavy overnight gunfire in some parts of the city, and one body was found in the morning, though it was not immediately clear who was involved. The police, reviled by the protesters as pro-Nkurunziza, were largely absent from the streets.
More than 110,000 refugees have fled to Rwanda, Democratic Republic of Congo and Tanzania, fearing pro-Nkurunziza youth militias known as Imbonerakure, who they say have been running a campaign of violence and intimidation in the countryside.
"I have a fiancée in Burundi but because of the terror by Imbonerakure I had to run away," said 27-year-old Jean Berchimas Dukuzemungu, a recent arrival in a refugee camp in Rwanda.
Many fled with what little possessions they could carry. Tanzanian health authorities confirmed cases of cholera in one camp housing Burundian refugees in its remote northwest, on the shores of Lake Tanganyika.
The United Nations refugee agency said seven people had died and 300 were suffering from acute diarrhoea, suggesting the death toll from the ranks of desperate fugitives might rise.
On Monday, Kenya called for the presidential elections scheduled for June 26 to be postponed to allow for a "conducive environment" but said they still had to be held before the end of August, when Nkurunziza's term officially closes.
*Source
Reuters/Yahoo
]]>