Burkina judge hears complaint of slain ex-leader's widow after 27 years
<![CDATA[By Romaric Ollo Hien* [caption id="attachment_18269" align="alignleft" width="300"]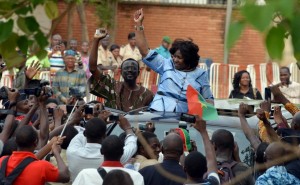 Mariam Sankara, widow former president Thomas Sankara, waves to the crowd upon her arrival at Ouagadougou's airport, Burkina Faso, on May 14, 2015 (AFP Photo/Ahmed Ouoba)[/caption]
Ouagadougou (AFP) – Mariam Sankara, the widow of former Burkina Faso president Thomas Sankara, on Monday for the first time gave testimony in an inquiry looking into the assassination of her husband more than 27 years ago.
Sankara spent nearly eight hours at a military court in the capital Ouagadougou answering questions by a judge tasked with investigating her husband's murder in a 1987 coup that saw his former friend Blaise Compaore take power.
"It was long but I think it was worth it," a tired-looking Sankara told reporters after the marathon session. "He (the judge) went over my complaint, he had many questions."
Sankara filed a complaint against persons unknown in 1997 for the assassination of her husband but the investigation was stonewalled under Compaore.
After Compaore stepped down last October over mass protests sparked by his bid to amend the constitution to extend his time in power, the new transitional government revived the probe into the death of one of Africa's most idolised leaders.
Thomas Sankara was a popular Marxist army captain who came to power in a 1983 coup and transformed what was then the former French colony of Upper Volta into Burkina Faso. His spirit loomed large during the recent anti-Compaore protests.
One of Mariam Sarkara's lawyers said Monday's hearing marked a significant step forward in the search for justice.
[caption id="attachment_18270" align="alignright" width="300"]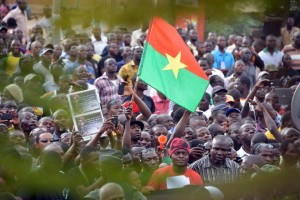 People gather to welcome Mariam Sankara, widow of former president Thomas Sankara, at Ouagadougou's airport, Burkina Faso, on May 14, 2015 (AFP Photo/Ahmed Ouoba)[/caption]
"It was the first time she could make herself heard in the context of these proceedings," said Ferdinand Djammen Nzepa, adding that his client had confirmed her "complaint against X".
The complaint also accuses "X" of forging documents and of concealing the corpse.
Many Burkinabe, including Sankara's family members, doubt that the corpse buried in a cemetery in the east of the capital is indeed that of Thomas Sankara.
Burkina Faso authorities in March ordered the corpse to be exhumed so it can be formally identified.
Mariam Sankara left Burkina Faso after her husband's death, living mostly in France. She only returned to Ouagadougou for the second time in 27 years last week, when she received a hero's welcome.
*
AFP/Yahoo
]]>