Arsenal Ownership Remains Wish for Richest African After Rebuff
By Paul Wallace*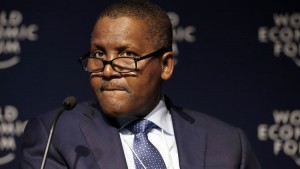 Africa's richest man, Aliko Dangote, said he still wants to buy English Premier League soccer team Arsenal even after he was rebuffed by its owners in 2010.
Nigeria's Dangote, an Arsenal fan worth $15.7 billion, according to the Bloomberg Billionaires Index, discussed buying a stake in the club five years ago before talks with the owners fell through, he said. Since then his wealth has grown more than sevenfold.
"I still hope, one day at the right price, that I'll buy the team," Dangote, 58, said in an interview as he traveled on a plane owned by one of his companies between the Ethiopian capital Addis Ababa and the Nigerian commercial hub of Lagos on May 1. "I might buy it, not at a ridiculous price but a price that the owners won't want to resist. I know my strategy."
Arsenal is one of England's most successful clubs, having won 13 top flight league titles in the country, the most after Manchester United and Liverpool. Arsenal Holdings Plc., the owner, trades on the ICAP Securities & Derivatives Exchange, or ISDX, and is valued at 988 million pounds ($1.49 billion).
A successful bid would make Dangote the first African owner of a club in a league where billionaires including Russia's Roman Abramovich, the owner of Chelsea, and Abu Dhabi's Sheikh Mansour bin Zayed al Nahyan, who controls Manchester City, have acquired teams.
Stan Kroenke, worth $5.6 billion and owner of the National Football League's St. Louis Rams, holds 67 percent of Arsenal, according to data compiled by Bloomberg. Red & White Sec Ltd., controlled by Uzbek billionaire Alisher Usmanov and Farhad Moshiri, owns 30 percent.
Cement, Gas
Dan Tolhurst, a spokesman for the London-based club, declined to comment as did Rollo Head, a spokesman for Usmanov in London. Tomago Collins, a spokesman for Kroenke in Denver, did not immediately respond to e-mails requesting comment.
Dangote has interests in sugar and flour and controls Dangote Cement Plc, Nigeria's biggest publicly traded company. He is investing $11 billion in a 650,000 barrel-a-day oil refinery near Lagos and as much as $2.5 billion in gas pipelines running to the city from Nigeria's oil-rich Niger River delta region.
His wealth has fallen by $2.7 billion this year, the sixth-most globally, according to the Billionaires Index.
Dangote, who ranks 55th on the index, said he's too busy with existing projects to mount a bid now.
"We have $16 billion-worth of investments in the next few years," he said. "Right now I want to take my own business to a certain level. Once I finish on that trajectory, then maybe" an offer will follow.
Limited Success
Most English Premier League matches are broadcast live in Nigeria, Africa's most populous country, by Supersport, a satellite television channel owned by South Africa's Naspers Ltd.
Arsenal won the FA Cup, England's main knockout tournament, last year, its first major trophy since 2005, and is in the final of the same tournament this year. Over the last decade London rivals Chelsea have won the English league four times as well as the European Champions League and several other trophies.
Arsene Wenger, who has managed Arsenal since 1996, has been criticized by fans including Rwanda's President Paul Kagame for the team's limited success in the last decade. Dangote said he is often too nervous to watch their games.
While Wenger has managed the club well from a financial standpoint, he "needs to change his style a bit," said Dangote. "They need new direction."
*Source Bloomberg