Activists denounce Africa's silence over migrant drownings
<![CDATA[
Banjul (Gambia) (AFP) – Despite cries of alarm from European politicians over the deaths of migrants in the Mediterranean, African leaders have been silent over an issue they fear underlines their weak governance, say campaigners.
[caption id="attachment_18332" align="alignleft" width="300"]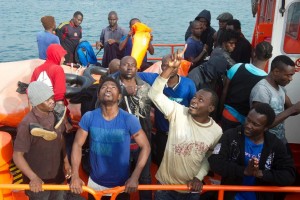 Despite cries of alarm from European politicians over the deaths of migrants in the Mediterranean, African leaders have been silent over an issue they fear underlines their weak governance, say campaigners (AFP Photo/Marcos Moreno)[/caption]
For years Libya has been a stepping stone for Africans seeking to get to Europe, fleeing conflict, economic hardship and instability often in rickety, unseaworthy vessels.
But the number of deaths has risen dramatically as boats operated by smugglers have capsized off Libya's coast, triggering alarm among European leaders seeking to halt the flow.
The UNHCR, the UN's refugee agency, estimates around 60,000 men, women and children have braved the Mediterranean so far this year in desperate efforts to reach Europe, more than 1,800 perishing in the attempt.
More than half of the 800 migrants killed in a trawler shipwreck on April 19 that sparked outrage around the world came from the Gambia, Senegal and Mali, according to estimates drawn up by those countries.
A month on, the European Union has announced controversial plans for a military operation to fight people smugglers in the Mediterranean, but there has been little focus on the issue in Africa itself.
The African Commission on Human and People's Rights has voiced concern that the deteriorating socio-economic, political and security situation in some countries was "pushing these people to embark on the migratory adventure, risking their lives".
The organisation, which met in Banjul in early May, said in a statement that it "deplores the silence of African countries" on migrant deaths, calling on the African Union "to end this scourge, and respond to the plight of these people".
– Disturbing silence –
"The silence of African leaders faced with the drama of illegal immigration, with its toll of deaths, is disturbing," said Amsatou Sow Sidibe, an adviser to Senegalese President Macky Sall.
"Illegal emigration is emptying the continent and the African countries of the means to promote their development," she told AFP, blaming "widespread poverty and massive unemployment of youth attracted to horizons where they hope, often wrongly, to find the conditions for a more tolerable life".
More than 300 leading migration experts and academics have denounced the EU plans, which could include destroying boats belonging to human traffickers in Libyan waters, although such a measure would need UN approval.
[caption id="attachment_18333" align="alignright" width="300"]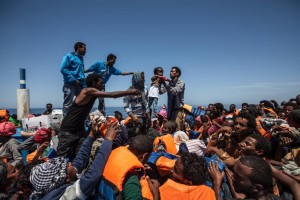 Picture taken on May 3, 2015 and released by the MOAS (Migrant Offshore Aid Station) shows migrants waiting aboard a wooden boat during a rescue operation off the coast of Sicily in the Mediterranean (AFP Photo/Jason Florio)[/caption]
Abdourhamane Sylla, Bamako's Minister of Malians Abroad believes the EU's militarisation of the problem misses the "fundamental reasons" for the exodus — which are economic.
"I do not believe that a tougher line is the solution. I actually rather fear these measures of the European Union. These measures are tough," he said.
Ousmane Diarra, president of the Malian Association for Deportees, agreed that the EU policy was doomed to fail as long as it fails to address weak governance in Africa as a root cause of migration.
"Poor governance makes people emigrate. It is therefore a migration enforced by the African system," he said.
"I see the inability of Africa. European heads of state have been able to come together but there is silence in Africa."
– Not 'true Muslims' –
Ousainou Darboe, a rights activist, politician and lawyer in Banjul, told AFP the Gambian government had done nothing to fight illegal migration.
"Every Wednesday and Friday, you have our youths boarding buses here in Banjul to go to Mali, their first point of call for the journey," he said.
"From there they go to Libya where they board unworthy sea vessels and in the process the boats capsize and some will die."
He too identified unemployment and economic hardship as the biggest motivation for people leaving.
Gambian President Yahya Jammeh is one of the few African leaders to speak out on migration — although his comments have not been particularly sympathetic to Gambians who feel they are forced to leave.
He acknowledged in an address on state-run television in mid-May that "there were many funerals in the country a few weeks ago because a lot of people died in the Mediterranean". But he blamed parents who pay for their children to embark on the risky voyage, suggesting they are not "true Muslims". Jammeh, an outspoken military officer and former wrestler, has ruled the former British colony with an iron fist since seizing power in 1994. The regime is frequently berated for human rights abuses, extra-judicial killings, torture and the muzzling of journalists. Sixty percent of the population live in poverty, a third surviving on $1.25 or less a day, according to the UN's 2014 Human Development Report.
"If these people are true Muslims and really believe in what they are saying, then they should equally believe that their sons and daughters could have made it at home if they were ready to invest and work," Jammeh said.
*Source
AFP/Yahoo
]]>